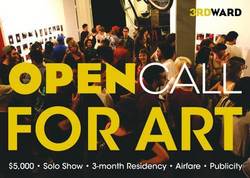 It's the dawn of a new decade!...With even greater opportunities & resources to offer, we are on the hunt for the next generation of great artists.
Brooklyn, NY (PRWEB) February 11, 2010
Known for its uncanny ability to provide working artists & designers exactly the tools they need for success, 3rd Ward starts 2010 with a Gallery Program awarding a $5,000 grant, 3-month live/work residency, solo exhibition, airfare, publication and citywide exposure! At the forefront of their program is The Solo Show, a quarterly international juried art competition that celebrates artists for their creativity, ambition and innovation - not their status or the saleability of their work. They are dedicated not only to awarding the artists who go on to become Solo Show Legends, but to providing them space and tools, too. During every Solo Show Residency, artists have access to a private live/work studio, all facilities at both 3rd Ward locations and their community of professional artists & designers. Plus, even those not deemed legendary still have a chance to be part of the top 25 who are featured in the 3rd Ward Magazine and on 3rdward.com.
The 2010 Winter Solo Show seeks dynamic, innovative and provocative work of all mediums and they've got a judging panel guaranteed to find it. Those in charge of selecting the next Artist are: Carol Lee the Arts Director at Paper Magazine; Dan Deacon a celebrated sound artist who has been coined an "electro-acoustic wizard"; Rostarr, the NYC artist who has lent his graphic vision to city walls, NIKE shoes and the Korean World Cup team; and Paolo Salvagione the Lead Design Engineer at the Long Now Foundation, the force behind the 10,000 year clock.
Previous Solo Show Winners have been as varied and talented as they come; representing an array of mediums and traveling from as far away as the Netherlands. Fall '09 artist, Johanna Heldebro, presented a body of work collected while secretly following her father who had abandoned her two years prior; Summer '09 artist, Pim Palsgraaf, turned 3rd Ward's gallery into an apocalyptic aftermath with taxidermied animals sprouting buildings made from found objects; Spring '09 Artist Selena Kimball, created a part fact, part fiction visual retelling of history through historical-documents-turned-30 ft.-panoramic-collage with The New World; Fall '08 Artist Sean Fader zipped himself into the bodies of people he coveted & admired in his collection I want to Put You On, Tell Me How to Put You on; Spring '08 Artist, Jeremy Leichman presented Suits, a reconstruction of the "corporate machine" with sculpture, lights and motors; and the original Solo Show Artists from the Fall of '07 Nate Green & Owen Shoppe filled 1,200 sq. ft. of space with a carousel and vertically over-lapped teeter-totters in their exhibition Vertigoes.
3rd Ward has been noted for its dynamic education program including more than 100 classes in art & design, its ongoing events like Drink-n-Draw, a weekly figure drawing session with professional models and complimentary beer and their FREE BIKES campaign. Beginning last spring, all annual memberships come with a lime colored single speed bike designed here in Brooklyn by 3rd Ward and NYC Bikes. Could there possibly be more to look forward to in the future? YES. Stay tuned for new membership opportunities and free coffee for members courtesy of Intelligentsia.
Please find full submission information for The 2010 Winter Solo Show below and at http://www.3rdward.com/opencall/. For more information about 3rd Ward's Gallery Program or artists please contact Nikki Bagli at nbagli@3rdward.com.
****
3rd Ward is a member-based design center for creative professionals with two locations in Williamsburg, Brooklyn. We are committed to providing resources, opportunities and a dynamic-creative network to our members and the community at large. Our space houses four gorgeous photo studios, a professional wood & metal shop, a fully loaded digital media lab, shared & private office space and a large interdisciplinary art education program. Throughout the year we also offer exciting events and opportunities for artists. http://www.3rdward.com.
****
3rd Ward Open Call For Art : Awarding Residency & $5,000!
http://www.3rdward.com/opencall/
It's the dawn of a new decade! The Solo Show starts 2010 with a newly formed Residency Program dedicated to supporting & inspiring emerging artists. With even greater opportunities & resources to offer, we are on the hunt for the next generation of great artists from around the world.
Are you the next Solo Show Legend?
The 2010 Winter Solo Show is a juried international art competition for dynamic, inventive and provocative work of all mediums: sculpture, photography, painting, printmaking, illustration, installation, graphic design, video and more!
The Selected Artist will receive:
* $5,000 cash grant
* Solo exhibition in 3rd Ward's gallery, complete with a massive opening reception
* Optional 3-month residency at 3rd Ward including private live/work studio & full facility access (photo
studios, wood & metal shop, media lab, classes)
* Airfare & shipping to and from 3rd Ward for non-NYC residents
* 2-page spread in 3rd Ward's Quarterly Magazine
* NYC exposure - postcards, fliers, press!
PLUS! The top 25 artists will be featured in 3rd Ward's Quarterly Magazine and website.
We are joined by judging panel:
Carol Lee, Arts Editor at Paper Magazine, Dan Deacon, Sound Artist & Electro-acoustic Wizard, Rostarr, NYC Artist and Paolo Salvagione, Lead Design Engineer, The Long Now Foundation.
Submit your best work now!
http://www.3rdward.com/opencall/
Last Day to Submit March 1, 2010, 11:59 p, EST.
###