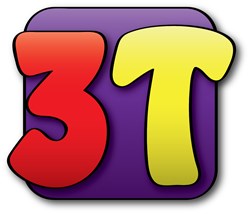 Any way parents can reduce their children's 'screen' time will benefit not only the children individually, but also enhance family relationships.
Rocky River, OH (PRWEB) October 08, 2013
A new, simply designed app for smartphones and tablets has emerged to help parents and caregivers limit children's time playing in the online world. The 3T timer app for Android devices -- a free download through Google play -- encourages limited screen time, decreasing risks of smartphone usage to young children.
With just a few simple taps, the 3T timer app returns children to offline play, where they learn invaluable life skills interacting with family and friends during their early developmental years. It also puts parents and caregivers back in control, through an app that couldn't be simpler to use.
"The idea for 3T actually originated when I noticed my nephews not having much screen time on their parents' smartphones," said Andrew Jarmoszuk, creator of the app and co-founder of Toddler Timer LLC. "When I asked why, the answer was because the devices were too difficult for their parents to get back without tantrums ensuing."
After discussions with friends and acquaintances that had similar stories, Jarmoszuk decided that parents could use some help.
Apps that target children, encouraging their consumption of smartphones and tablets have proliferated while evidence of any long-term benefits from their use is elusive. However, evidence of developmental risks in young children through too much screen time continues to surface.
Some of the risks include delayed language skills, limited vocabularies, physical inactivity and impaired social interactions.
A recent article on Psychology Today, "The Big Disconnect," written by Dr. Susan Newman, Ph.D., a noted social psychologist and parenting expert, explains why it's important to limit screen time for kids and asks if parents are feeding into their family's digital addictions. Dr. Newman also reviews a helpful new book with the same name.
In the article, Dr. Newman claims that the majority of parents don't seem to be paying attention to how technology is taking over family life, citing a study by Northwestern University, which surveyed 2,300 parents of children up to age eight. The study shows that kids closely mirror their parents' use of technology.
"What the book and the study show is that it's very easy to let kids use devices to their detriment, without parents even realizing it," said Dr. Newman. "Any way parents can reduce their children's 'screen' time will benefit not only the children individually, but also enhance family relationships."
Here's how 3T works:

Parents and caregivers choose how long the child will have a functioning device.
After time runs out, the phone locks, ending the play session.
The app has an optional setting that flashes an empty battery prior to locking, which leads young children to believe the device needs to be charged and can no longer be used.
With time up, parents can have their children return to offline play.
The 3T timer app allows parents to control at least some of their children's digital world and limits immersion into electronic devices by: promoting traditional activity-based learning; reducing radiation exposure, encouraging physical activity, supporting social interactions and discouraging electronic usage in a simple way.
The 3T web site, http://www.yerdun.com, has helpful tips to introduce the app to toddlers and useful links discussing the risks of too much smartphone exposure to children.
About 3
Andrew Jarmoszuk wanted a better way to limit screen time on devices for young children and got to work developing it. The 3T timer app, now available on Google Play, is a free download for Android smartphones and tablets. With just a few simple taps, parents and caregivers can set the timer and safely hand over a device to a child knowing that digital play will be limited appropriately.
For more information about 3T or Dr. Newman's article on Psychology Today:
http://www.yerdun.com
http://www.facebook.com/theapp3T
http://www.psychologytoday.com/blog/singletons/201308/the-big-disconnect