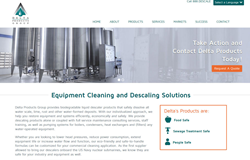 The staff has been wonderful to work with and they continue to impress with each stage in the process, from design, implementation and follow up
Aurora, IL (PRWEB) April 01, 2015
Delta Products Group of Aurora, IL has launched a new responsive website. They came to Idea Marketing Group looking for a website that they could update themselves and that would be responsive for mobile devices.
Delta Products Group provides biodegradable liquid descaler products that safely dissolve all water scale, lime, rust and other water-formed deposits. Their individualized approach helps customers restore equipment and systems efficiently, economically and safely. They provide descaling products alone or coupled with full service maintenance consulting services, staff training, as well as pumping systems for boilers, condensers, heat exchangers and any water-operated equipment.
Idea Marketing Group built the new website on the Wordpress platform and optimized for search. The site allows Delta Products Group to update the site from an easy to use Wordpress content management system.
As a leader in their industry, Delta Products Group wanted their web presence to showcase their superior products in a visually captivating way. The new site features dramatic before and after images that demonstrate the power of their descaler products. Each unique product has a dedicated product page that describes the product and its uses.
"We are extremely pleased with the results produced by Idea. The staff has been wonderful to work with and they continue to impress with each stage in the process, from design, implementation and follow up," says Mark Ostermeier, founder and president of Delta Products Group, Inc.
Check out the new Delta Products manufacturing website.
Idea Marketing Group, located just west of Chicago, offers web design, web development, and marketing services to clients nationwide. With additional specialties in branding, graphic design and marketing services. Idea draws from experienced, in-house talent paired with unmatched customer service at award-winning levels.