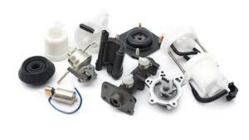 The used, aftermarket and OEM parts each have a specific amount of warranty coverage that is added when a sale takes place.
Indianapolis, Indiana (PRWEB) May 03, 2013
The construction of off-road vehicles has helped create a niche market for many automakers and other sellers creating these vehicles for sale. The replacement parts industry can vary with options for buyers of parts. The AutoProsUSA.com company has expanded its online inventory and is now selling four wheel parts below the MSRP price. These parts are OEM condition and are provided for a discount to buyers in all parts of the United States at autoprosusa.com.
The traditional supply chain for replacement parts includes manufacturers selling to authorized distributors to supply retailers with inventory. While this method is still in use by many companies, the pricing that can be found by consumers researching parts purchases can fluctuate. The discounted pricing for the parts now listed for sale online is helping to offer better resources for buyers to find an original part without a fluctuating price.
The AutoProsUSA.com website has been updated this year to include easier methods for consumers to find parts and pricing. The company toll-free order line remains a popular way to make contact with company specialists.
The online services that are now offered by this company includes a bigger and better database of parts. The entire company inventory is included as well as daily updates and additions. The price tool online provides immediate quotes and price comparisons for buyers.
The four wheel parts that are now online are now eligible for the warranty policies that are in place for all sales. The company changes to the policies for warranties now ensure that all parts that are sold receive the coverage that buyers expect. The used, aftermarket and OEM parts each have a specific amount of warranty coverage that is added when a sale takes place. These policies are offered to protect parts from breakdown in comparison with retailers not able or unwilling to warranty parts that are sold to buyers.
About AutoProsUSA.com
The AutoProsUSA.com company supplies its discounted auto parts to buyers across the United States. This company has developed its sophisticated company website to make researching parts inventory and pricing faster and easier for buyers. The amount of inventory now carried on the company website is one of the largest sources found on the secondary parts market. The AutoProsUSA.com company is owned and controlled by auto specialists working to find the best pricing and parts quality for buyers. The achievements made by this company this year are helping more buyers to purchase replacement parts for lower prices.