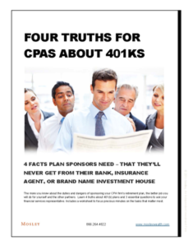 When you created your firm's retirement plan, you probably relied on financial services salespeople - maybe a Wealth Management Consultant, Wealth Advisor, or Institutional Sales Consultant - and there are 4 key facts that they probably didn't mention.
Madison, Wisconsin (PRWEB) November 28, 2011
Mosley, an independent financial advisor based in Madison, has released "Four Truths For CPAs About 401ks: 4 Facts Plan Sponsors Need That They'll Never Get From Their Bank, Insurance Agent, Or Brand Name Investment House." Aimed specifically at small public accounting firms, it is the second in a series of free guides to help professional services firms choose the right 401(k) retirement plan for their firms.
Investment fiduciary Scott Mosley cites a recent post at Forbes.com titled "Why 401(k) Plans are Doomed from the Start," in which Michael Chamberlain writes: "The '401(k) industry' has made a killing off the current system…. The 'fix' to many of these mistakes is the use of independent, outside plan fiduciaries."
"When you created a retirement plan for your firm, you probably relied on financial services salespeople for advice. Maybe a guy with a title like Wealth Management Consultant, Wealth Advisor, or Institutional Sales Consultant. He said he was helping you choose the best plan for you," Mosley writes. "But because a sales quota is hanging over him, there are several important facts he won't mention."
Mosley explains in his guide why each of the following is true and important to sound decision making – yet are not mentioned by salespeople:
"With our prepackaged plans, you'll defer a fraction of the assets that you can legally defer."
"My employer has no skin in the game. The results you end up with are your responsibility."
"You have a legal duty not to overpay, so check the details on our fees and services and compare them to other options."
"Honestly, no. Our retirement plan products are not 'free'."
For the people in charge of guiding the firm's retirement plan, it's not merely smart to pay attention to fees and investment options, it's a duty. The federal Employee Retirement Income Security Act (ERISA) says that plan fiduciaries -- the people responsible for managing retirement plans -- have an obligation to prudently select and monitor plan investments, investment options made available to the plan's participants and beneficiaries, and the persons providing services to the plan.
"Circumstances change. Financial tools change. The business retirement plan that was right for your firm five or ten years ago may not be the best course for the next five or ten years," says Mosley.
"For many dedicated CPAs, the day comes all too soon when it feels like the right time to retire, or at least cut back. If they've waited too long into their careers to take retirement planning seriously, they could face a rude awakening. And for someone who advises others on how to handle money, that might be embarrassing."
Mosley acknowledges that addressing the company's 401(k) plan can seem like a chore – and that even the most organized, meticulous accountants may procrastinate. But, he says, "you might be surprised at how quick it can be to optimize your retirement plan's architecture, when you get the right subject matter expert to help," Mosley says.
"That's why I wrote this informational piece. I do not get commissions on 401(k) plans. It's in my interest for you to know the whole truth and all your options. Because the more you know about the duties and dangers of sponsoring a retirement plan, the more likely you will be to tap someone like me for help… and the better job you will do for yourself and your team."
The guide includes a checklist for firms to get on the right track in 2012, including the most important questions to ask a financial adviser. It is free to download at http://www.mosleywealth.com/CPA401k
About Scott Mosley, CAIASM
Scott Mosley holds the Chartered Alternative Investment AnalystSM designation; an MBA from University of Texas at Austin; and a BA from Vanderbilt. Formerly a Navy officer, he now leads Mosley Wealth and advises attorneys, CPAs, dentists, doctors, and retired executives. Scott's analysis has been cited in Financial Planning, Wealth Manager, Boomer Market Advisor, Physician's Money Digest, and Fund Strategy. He writes the Independent Financial Advisor Blog and tweets at @ScottFMosley.
About Mosley, An Independent Investment Firm
Mosley, An Independent Investment Firm is located in Madison, WI. Mosley provides independent 3rd party consulting services for corporate retirement plans. Additionally, the firm designs and implements investment and asset management strategies for high-income professionals and retirees. Mosley is owned by Scott Mosley. Mr. Mosley is a Registered Representative and Investment Advisor Representative of Commonwealth Financial Network, a member FINRA/SIPC and a Registered Investment Adviser. Learn more at http://www.mosleywealth.com or call 866.264.4822.
Mosley Wealth – Madison location (by appointment)
10 East Doty, Suite 800
Madison Wisconsin 53703
Mosley Wealth – Middleton location
6955 Harmony Way
Middleton Wisconsin 53562
Securities and Advisory Services offered through Commonwealth Financial Network, Member FINRA/SIPC, a Registered Investment Adviser. Fixed Insurance products and services offered by Mosley are separate and unrelated to Commonwealth.
###