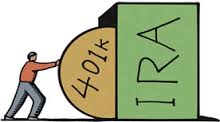 We have seen an increase in demand for self-directed IRA LLC structures from former employees who have been forced to withdraw their 401(k) plan funds from a former employer
Miami, FL (PRWEB) June 03, 2013
IRA Financial Group, the leading facilitator of self-directed IRAs with checkbook control has seen a surging demand for self directed IRA LLC accounts from employees who have been booted from their former employer's 401(k) Plan.
The majority of companies that sponsor 401(k) plans automatically roll former employees with accounts holding less than $5,000, the level permitted by the government, into individual retirement accounts. "We have seen an increase in demand for self directed IRA LLC structures from former employees who have been forced to withdraw their 401(k) plan funds from a former employer," stated Adam Bergman, a tax attorney with the IRA Financial Group. "By rolling their retirement funds into a self-directed IRA, these individuals have been able to make traditional as well as non-traditional investments, such as real estate with their IRA funds," stated Mr. Bergman.
IRA Financial Group's true self-directed IRA LLC solution involves the establishment of a limited liability company ("LLC") that is owned by the IRA (care of the IRA custodian) and managed by the IRA holder or any third-party. As manager of the IRA LLC, the IRA holder will have control over the self directed IRA rollover assets to make real estate and other investments tax-free and without custodian consent.
"Individuals who have seen their 401(k) Plan funds booted out their former employer 401(k) Plan, have been able to take advantage of lower fee offerings via a self-directed IRA LLC," stated Mr. Bergman.
The IRA Financial Group was founded by a group of top law firm tax and ERISA lawyers who have worked at some of the largest law firms in the United States, such as White & Case LLP, Dewey & LeBoeuf LLP, and Thelen LLP.
IRA Financial Group is the market's leading "checkbook control Self Directed IRA Facilitator. IRA Financial Group has helped thousands of clients take back control over their retirement funds while gaining the ability to invest in almost any type of investment, including real estate without custodian consent.
To learn more about the IRA Financial Group please visit our website at http://www.irafinancialgroup.com or call 800-472-0646.