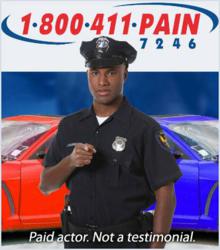 Miami, FL (PRWEB) April 27, 2012
With over fifteen years of experience, 411 Pain has proven itself a trustworthy ally of the victims of auto accidents, helping people transition back to their everyday lives while easing pain, suffering, and confusing. 411 Pain reminds people of their rights should they be injured in an auto accident; they may be entitled to thousands of dollars in personal injury benefits and lost wages, depending on the facts of each case. The company reaches out to the community, inviting anyone who is unfortunately involved in such an accident to contact them at a toll-free number: 1-800-411-PAIN. It takes responsibility to schedule the victim's appointment with a doctor experienced in that given type of injury, and to provide the victim with transportation to a professional doctor's office nearby.
In the unfortunate scenario of an accident, it's very easy to become confused, panic-struck, or even completely overwhelmed. While the best strategy is prevention, there are several invaluable tips to consider in case something violent does happen. Be prepared. Remain composed. As much as possible, channel your calmest self.
o No matter what, take a moment to assess the situation first. Always look before you leap; if you've crashed on the highway, for example, don't just jump out of your car into oncoming traffic—because if you weren't already hurt, you will be.
o Call the police and/or ambulance. It's their job—they will help.
o Check yourself (and the people with you) for injuries. You may not notice them immediately, due to distress and adrenaline, so always allow a professional to check on you at the scene or after you leave it. If it's safe, remain in the car (if car fuel is leaking, for instance, it's time to get out); it may exacerbate a person's wounds if you move them. You can also call a service company such as 411 PAIN for immediate advice and assistance.
o Don't leave the accident scene if it isn't physically dangerous (i.e. things aren't about to blow up). Not only may driving away be illegal, but leaving the scene could affect your insurance or accident claim. Stay until the police arrive or (if it's a minor accident) the paperwork is done and the issue has been resolved.
o It's essential to remain calm. You're full of adrenaline, fear, confusion, maybe even rage—understandable, but detrimental. If you stay calm, you'll handle the situation at your best. Focus on dealing peacefully with all others, exchange information methodologically and calmly, and avoid arguing at all costs (that can escalate very quickly); leave the very agitated people to the police.
o Speak carefully. Don't voluntarily accept responsibility, assume liability, sign any papers, or agree to pay for anything without speaking to the investigating police officer(s) first. Tell your side of the story to them, explaining your perspective and if you're at fault or not.
411 PAIN also offers to connect the victim with an attorney who can explain the facts of his or her case, and provide whatever knowledge and resources are possible in order to get the victim's life back on track. Apart from its free referral services, 411 PAIN also brings the community together by sponsoring local events and donating to local charities. Available 24/7, including weekends and holidays, the company can also be found online through various social networks:
411 Pain on Facebook
411 Pain on LinkedIn
411 Pain on Twitter