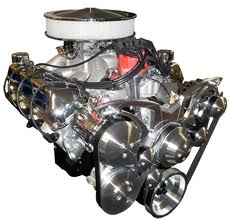 The same pricing offered to dealers by this company is now offered direct to the public.
Los Angeles, California (PRWEB) February 26, 2013
Ford big block motors were created during the muscle car era and many ceased production in the 1970s. While these variants can be difficult to find online, the CrateEnginesforSale.com company has now added for sale the 460 crate motor from Ford. This engine is in new condition and ready for sale to the public at a discount price. This motor is OEM quality and orders are processed for shipment on the same day to expedite shipping. More details can be located online at http://www.crateenginesforsale.com/ford-2/ford-460-75l-crate-engine.
The 385 Ford engine was used to form the basis of the 460 first created for placement into performance vehicles. The passenger car installations were terminated in the 1970s in an effort to increase fuel efficiency for vehicle owners. This big block V8 was used in many trucks and recreational vehicles as the sole power base.
Ford stopped production on its big block 460 in the 1990s and the new editions sold online are ready for installation in compatible Ford vehicles.
The popularity of crate engines has made it possible for buyers to locate small block and big block sizes without purchasing directly from a dealership. Engine building companies are typically the sole providers of hard to locate motors that have been phased out by automakers. The CrateEnginesforSale.com company now offers one of the largest inventories for these motor types that can be located on the Internet by vehicle owners. The same pricing offered to dealers by this company is now offered direct to the public.
Testing in the engine industry is not typically completed before all sales are made. Testing equipment and facilities require certain investments that not all companies are able to make. A recent upgrade for dyno testing was announced by this company to increase engine output quality.
These tests now supply all customers with accurate OEM data that proves each build conforms to the specifications and requirements of automakers. The news release for this announcement can be read online at http://www.sfgate.com/business/prweb/article/Crate-Engines-Now-Dyno-Tested-Before-Sale-at-4200946.php.
About Crate Engines for Sale
The Crate Engines for Sale company supplies custom built crate motors from Ford, Chevy, Dodge, GMC, Toyota, Honda and other manufacturers. This company frequently lowers its price structures to help vehicle owners find the best discounts online. This company earned this reputation in the trade industry by selling to mechanics and other professionals performing automotive engine installs. The Crate Engines for Sale company applies warranty coverage to each sale as an additional measure to protect the builds that are sold to the public.