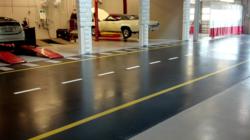 Chicago, Illinois (PRWEB) August 14, 2012
New Floropoxy 4900 and 4905, the latest innovations in the Florock® resinous flooring line, take green, eco-friendly floors to a new level of convenience. The Zero-VOC, low emissions epoxy coating systems, manufactured by Crawford Laboratories, Inc., offer faster cure times, simpler mix ratios and easy field- tinting.
"Floropoxy 4900 and 4905 were developed in response to our approved installers' requests," says David Schmetterer, Crawford Labs' President. "These professionals are the best in the business – we listen to what they have to say."
The varied viscosities, cure time options and convenient 2:1 mix ratios of new Floropoxy 4900 and 4905 are perfect complements to long-time favorites like Floropoxy 4700 Primer and 4805 Water Clear Mid/ Topcoat. Now, Florock contractors can even more precisely select their resin components, based on unique job site conditions, available turn-around time, and building owner preference.
Floropoxy resins work beautifully in decorative fluid-applied flooring, such as the FloroQuartz and FloroChip systems. The concrete coatings are also utilized in heavy-duty industrial floors like FloroShop and FloroBuild.
Thanks to the recent additions, Florock now has one of the broadest epoxy flooring selections for industrial, commercial and institutional applications – and one of the most environmentally-friendly. With so many solvent-free systems, recyclable packaging, and the ability to contribute to USGBC LEED qualification, architects, designers and facility managers have a convenient one-stop-shop when selecting resinous flooring.
ABOUT FLOROCK®, MANUFACTURED IN THE U.S.A. BY CRAWFORD LABORATORIES, INC. -- Serving facilities nationwide, Crawford Laboratories, Inc., is a respected leader in the manufacture, research and development, and installation of solutions-oriented concrete floor coatings and toppings. Independently owned for over 60 years and located in Chicago, Illinois, Crawford Laboratories was founded on the principles of cutting-edge technology, innovation and impeccable integrity.