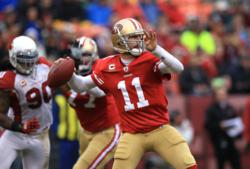 The 49ers may win most of their home games, but each victory is likely to be the result of a hard-fought and highly entertaining battle.
San Francisco, CA (PRWEB) September 08, 2011
The National Football League's lockout has been lifted, preseason is over, and what is sure to be a thrilling 2011 regular season is set to kick off. Top Notch Seats, a Bay Area ticket broker, is proud to announce the availability of first-rate tickets in all price ranges to each and every one of the San Francisco 49ers' eight home games. Top Notch Seats encourages 49er fans to buy tickets on their easy-to-use website as soon as possible in order to take advantage of best availability.
"The 49ers may win most of their home games, but each victory is likely to be the result of a hard-fought and highly entertaining battle," said Paul Hillig of Top Notch Seats.
San Francisco 49ers tickets are available to games such as the September 18th matchup against the Dallas Cowboys and a Monday Night game on December 19th against the Pittsburgh Steelers, who have been perennial championship contenders since drafting quarterback Ben Roethlisburger.
Team President Jed York successfully recruited former Stanford coach Jim Harbaugh to lead the 49ers into battle for the foreseeable future, and the move has fans excited and clamoring for 49er tickets. With a new coach comes a new vision and renewed sense of purpose, and it appears to be a certainty that the team will once again be playing with passion and pride.
San Francisco 49ers ticketholders will likely see running back Frank Gore carrying and dragging defenders on his way to first downs and touchdowns. Pro Bowl linebacker Patrick Willis anchors a defensive line that is shaping up to become one of the league's best.
Wide receiver Braylon Edwards has joined the 49ers and should be a huge asset to quarterback Alex Smith, who is primed for a breakout year. Should Smith struggle, folks with SF 49ers tickets will have a chance to see 6'5" rookie quarterback Colin Kaepernick up close, which might end up being worth the price of admission itself.
Candlestick Park is steeped in tradition and located only minutes from the Pacific Ocean and some of the nation's finest dining. It is also home to the San Francisco 49ers, who are in the final stages of a long and tumultuous rebuilding process.
For more information about San Francisco 49ers tickets, an experience worth far more than the asking price, go to Top Notch Seats online at http://www.TopNotchSeats.com.
About Top Notch Seats
Top Notch Seats (TNS) is located in Campbell, California, adjacent to the city of San Jose, in the heart of Silicon Valley. TNS has been in business since 1993, providing quality seating and tickets to all major concerts, theatre and San Francisco Bay Area sports events in the San Francisco Bay Area and nationwide.
Top Notch Seats specializes in providing Bay Area concert tickets with a wide variety of seating options to customers, which enables them to choose their favorite vantage point. TNS is a licensed Bay Area ticket broker engaged in the business of buying and selling first-rate tickets. They do not sell tickets at face value; ticket prices are often well above face value and reflect the cost of obtaining quality seating.
# # #