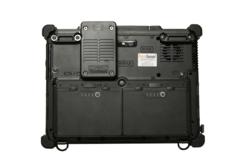 Our new USB expansion module is going to relieve a lot of headaches as users can easily change modems, switch carriers and save money.
Hiawatha, IA (PRWEB) June 12, 2013
MobileDemand, a global provider of rugged Windows tablet PC systems announces new USB expansion modules for the xTablet T1200 and xTablet T7200 rugged tablet PC systems. These modules are designed to house a variety carrier provided and certified USB modems giving users wireless wide area network (WWAN) connectivity and access to data in real time wherever and whenever needed.
The MobileDemand modules provide carrier and technology independence giving customers the freedom to choose their wireless carrier and the latest USB modem WWAN technology like 3G, 4G and LTE. Companies can even use modems from one carrier in some tablets and modems from another carrier in other tablets to provide the best coverage in each locale. Also, users will be able to upgrade to next generation modems without having to purchase new tablet hardware, protecting the overall investment.
The high-performance, all-light readable xTablet rugged tablet PCs bolster productivity for mobile users who work in demanding and harsh environments. These fully rugged tablets provide long-term savings over non-rugged devices with near 100% uptime in mission critical line of business applications. The xTablet T1200 runs either Windows 7 Professional or Windows 8 Professional and comes with the latest powerful Intel Core i5-3427U processor. The xTablet T7200 runs Windows 7 Professional and comes with the latest Intel Atom processor with Dual Core which provides better CPU and disk performance to handle graphic and data intensive applications.
Prior to the new MobileDemand carrier independent USB expansion modules, users could not easily change carriers with traditional integrated wireless radio modems. Nor could customers upgrade to new modems on their own making it difficult to migrate to new technologies. They were also far more expensive than certified USB modems from the carriers. Users of the MobileDemand USB expansion modules not only save on the up front modem costs, they can also save up to 60% on bundled data plans available through the carriers and never have to worry about outdated wireless technology.
MobileDemand's new small, USB expansion modules are secured safely to the back of the xTablet and maintain the tablet's overall ruggedness and sealing. The USB expansion modules have screws in the lid so that a customer can open them, connect a USB modem to the internal USB cable and then put the lid back on for a sealed and fully rugged WWAN solution. The USB expansion modules can even be added tablets after the initial deployment without WWAN.
For companies considering implementing 3G, 4G or LTE wireless for their mobile workers, now is a great time to deploy due to new technology such as the MobileDemand USB expansion modules and the potential cost savings through the wireless carriers.
"Older WWAN technologies were just not getting the job done for those enterprise operations that want to be connected but don't want to sacrifice performance," says Jon Rasmussen, Senior Director of Product Management at MobileDemand. "Our new USB expansion module is going to relieve a lot of headaches as users can easily change modems, switch carriers and save money. Also, for those users working in harsh work settings, the module will not break if the tablet is dropped or exposed to various environmental elements. "
About MobileDemand
MobileDemand is the nation's leading provider of rugged tablet PC systems used in the transportation industry to improve productivity, anywhere. MobileDemand xTablets are used by mobile workers in many other industries including Food and Beverage Distribution, Manufacturing, Retail, Field Service, Military and Public Sector to cut operational costs and improve customer service. MobileDemand xTablet Rugged Tablet PCs and accessories are built military rugged to withstand harsh environments. They deliver the power, reliable performance and long-term savings companies need to achieve greater efficiency and productivity in the field. In 2012 MobileDemand earned the position of 1,034 on the 2012 Inc. 500/5000 list of the nation's fastest growing private companies. The company has built its success on a commitment to innovation everywhere – in product design, customer relationships and in its channel. President Matt Miller also received recognition as a finalist for the prestigious 2012 Ernst & Young Entrepreneur of the Year award. MobileDemand. Innovation everywhere. Productivity anywhere. Additional information is available at http://www.RuggedTabletPC.com.