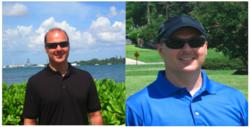 I played golf in 90 degrees and my head felt cool in my new 4HeadWear hat. Thank you again for the free hat.
(PRWEB) July 26, 2011
4HeadWear wants photos of their customer's hairstyle or non-hairstyle as the case may be. Steve Aronson, owner of 4HeadWear, wants to add these photos to the company's website, "As an incentive for providing a picture without a hat and one wearing a 4HeadWear hat we are offering a second hat free. Our hats have been designed specifically for bald men and those with receding hairlines. We want visitors to the website to see our customers' 'non-hairstyle' and see why our hats are the most comfortable hats you can wear."
The fabrics used and design features are what sets 4HeadWear hats apart from traditional hats according to Aronson the inventor of The Bald Guy Hat®. "We searched the world for the perfect, most comfortable hat fabric. Our fabrics are 33% lighter than those found in traditional hats. Bald guys instantly feel the comfort a lighter weight fabric offers. The fabrics provide superior moisture wicking, up to five times faster drying than traditional hats. And all of our hats are machine washable. They come out of the washing machine virtually dry, sweat-stain free, and looking like new every time."
4HeadWear offers a variety of styles including golf hats, running hats and the All Activity hat. The "All Activity" style features a patent pending moisture wicking design they have named SweatBandit. Golfer and Runner styles are made with Cocona Fabric, which offers superior moisture wicking capability and natural UV protection.
Foster Atterberry of Tampa Florida took advantage of the offer and provided these comments, "…I must admit, this cap is the most comfortable cap I have ever worn. The weather was hot (Tampa, FL in July). I actually forgot that I had it on, as the fit was so comfortable. When riding in the cart, the fabric allowed the breeze to cool my dome much better than a traditional cap. I have almost 100 golf caps in my closet, but think that my two newest ones, the 4HeadWear caps will be handling the bulk of the work for the rest of the summer."
Ted Blanchard from Melville, NY provided his photos and had this to say, "I played golf in 90 degrees and my head felt cool. Thank you again for the free hat."
Details about the photo offer are available at the company's website. Offer ends September 30, 2011.
About 4HeadWear
Steve Aronson, bald for most of his life, is the founder 4HeadWear. Steve is an avid golfer, and realized the need for a better golf hat. Now, after only 10 months in business, 4HeadWear is quickly becoming the hat of choice for men that are bald or have receding hairlines that participate in all types of activities. For more information visit the company's website.
###