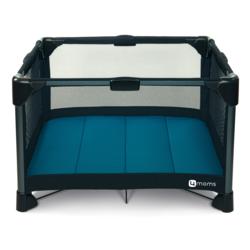 The reaction has been overwhelming: parents can't wait!
Pittsburgh, PA (PRWEB) May 29, 2012
4moms has released a new web video to promote the upcoming launch of their newest product, the Breeze playard. Introduced for the first time in the U.S. at the All Baby and Child Expo in September 2011, the Breeze is the "easiest playard ever" and opens and closes with just one simple motion.
"Retailers and customers are incredibly excited," says Rob Daley, CEO of 4moms. "Other playards can be a hassle, so they're looking forward to something truly easy to use. We created this video to give people a peek at what's coming, and the reaction has been overwhelming: parents can't wait!"
Viewer comments on 4moms' Facebook page in reaction to the video include: "Amazing!"; "LOVE it!"; and "Seriously…where were you when I had my first baby?". The Breeze will be available this summer from retailers nationwide and online. 4moms will announce the price and exact release date soon.
About 4moms
4moms has introduced robotics technology to the juvenile industry, creating innovative, well-designed products that meet parents' real needs. The experience of the four namesake moms who formed the company's first focus group, plus the expertise of a team of over forty engineers, designers, and developers, gives 4moms its innovative edge in the field of juvenile product design and has put their products in over 500 stores in 17 countries.
4moms is a brand of Thorley Industries, LLC, a 7-year-old company that develops and markets products for the $7.0 billion juvenile products industry. For more specifics on all 4moms' products, visit http://www.4moms.com.