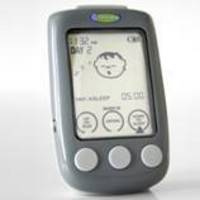 One of the biggest challenges new parents face is getting their baby to sleep through the night
Pittsburgh, PA (Vocus) January 29, 2009
4moms , a company that creates innovative juvenile products, has announced that its new product, the Goodnight Sleep Trainer, is now available in Target stores for the first time.
Click for Video:
http://www.vimeo.com/2920674
"One of the biggest challenges new parents face is getting their baby to sleep through the night," explained Rob Daley, co-founder and CEO of 4moms. "Sleep experts have written dozens of books detailing proven sleep training methods, but let's face it -- when its 4a.m. and your baby is crying, it's not easy to remember what you read in a book."
To address this challenge, 4moms worked closely with Dr. Jim Tucker, a pediatrician who has been preaching these sleep-training methods to hundreds of families over the last 26 years, to develop the Goodnight Sleep Trainer.
"For the first time, this product takes the proven book- based methods of sleep training and puts them into a simple to use electronic device," said Dr. Tucker. "By gradually increasing the time parents let their children cry it out, the children learn to soothe themselves to sleep while still getting the parental support that is key to good child development."
Retailing for $29.95, the Goodnight Sleep Trainer is easy to use and addresses two areas of sleep training. First, the product offers a progressive timer to help parents as they teach their children how to soothe themselves to sleep. By gradually increasing the time that parents let their children "cry it out", the children learn to soothe themselves to sleep while still getting the parental support that is key to good child development. The Goodnight Sleep Trainer also has an option that allows parents to connect to the web to track sleep patterns on-line, monitor how their child is progressing and compare the data against statistical norms.
The Goodnight Sleep Trainer is also available via Target.com, Amazon.com, and Buy Buy Baby as well as specialty retailers and boutiques throughout the United States. The product will be available in Babies R'Us stores and on BabiesRus.com in February of 2009. For more information on using the product, go to http://www.goodnightsleeptrainer.com.
Based in Pittsburgh, Pennsylvania, 4moms has also created the innovative Cleanwater Infant Tub, which has been on the market since 2006. Created after months of market research and dozens of focus groups with real moms, the product is the result of a simple idea: an infant tub with a hole in the side that allows dirty water to drain out while clean fresh water flows in. The product also has a digital thermometer so parents can monitor the temperature.
About 4moms
Committed to making routine tasks easier for parents, 4moms is revolutionizing the juvenile products industry with dramatically innovative products. Market research that included a group of 5 moms with fifteen children among them led the company to focus on the juvenile products industry. By leveraging the declining costs of technology, the company is able to develop products that are completely unique and revolutionary, yet would have been cost prohibitive just a few years ago. Today, the moms are still involved in the research and the company has a team of fifteen robotic engineers and researchers (and parents to twenty-eight children), who are focused on applying new technologies to create award winning products that are intelligent and offer real life solutions for parents. For more specifics on all 4moms products, click on their website at http://www.4momsOnLine.com.
Contact Information:
Kelley Denny/Lynn Seay, prwerks
Phone: 412-784-1719/352-9240
###