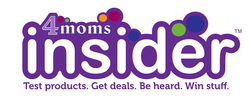 The program's been a tremendous success
Pittsburgh, PA (Vocus) May 17, 2010
4moms has updated their popular online Insider program to give consumers more opportunity to interact with the company. The newly launched Insider 4.0 allows consumers to sign up on 4moms' website to test products, take surveys, and enter contests, plus options to receive personalized "family news" updates, write product reviews, become a mystery shopper, and earn points toward discounts on 4moms products.
Insider 4.0 takes the current 4moms Insider site from a single webpage to a content-rich, multi-page interface. 4moms' recent contest, in which they gave away a $200 mamaRoo infant seat every day for 60 days, attracted thousands of new Insiders to the site, and this sudden growth of the program is part of the reason 4moms decided to launch a new revolution of the Insider site.
"The program's been a tremendous success," says Rob Daley, CEO of 4moms. "We have thousands of registered Insiders, and we want to make sure we give them reasons to keep visiting our site. We truly value their interest in the company, and they deserve the chance to give input and earn rewards for their dedication. Insider 4.0 not only creates a personalized experience for each user, but it gives them the chance to become a part of the 4moms team."
Though the Insider site will continue to grow and change, opportunities currently available include the chance to win one of 4moms' award-winning Cleanwater Infant Tubs, tell 4moms what you'd like their next product to be, sign up to visit local stores as a 4moms mystery shopper (and get paid for it), and earn points toward gift certificates for 4moms products and merchandise.
About 4moms
Frequently referred to as "the Apple of the juvenile industry," 4moms began with a focus group of five moms from Mt. Lebanon, PA, who inspired the company's name (but 4moms sounds better than 5moms, so one mother took the title "The Stealth Mom"). Their experience (they have fifteen kids between them; one has TWO, yes TWO sets of twins) plus the expertise of a team of eleven engineers, researchers, and developers gives 4moms its innovative edge in the field of juvenile product design.
4moms is a brand of Thorley Industries, Inc., a 4-year-old company that develops and markets products for the $7.0 billion juvenile products industry. 4moms' award-winning products are available at more than 250 of the top specialty retailers nationwide as well as several national web retailers. Their highly anticipated mamaRoo infant swing recently launched in over 200 stores nationwide. For more specifics on all 4moms' products, visit their website at http://www.4momsonline.com.
###