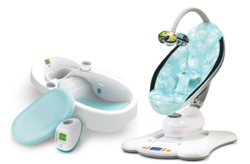 Several of our best stores sold out within the first week of the launch.
Pittsburgh, PA (PRWEB) July 25, 2011
4moms is pleased to announce that the launches of its two newest products, the Cleanwater Collection and the mamaRoo plush, have both been resounding successes. The Cleanwater Collection debuted on June 15, and the mamaRoo plush hit stores nationwide on July 15.
The Cleanwater Collection is a complete bathing solution for infants from birth through their toddler years. Each Collection includes one Cleanwater Infant Tub, one Digital Spout Cover, and one bath sponge. The mamaRoo plush is 4moms' popular mamaRoo infant seat in a new, softer fabric, available in patterns for the first time. Both products received grand sendoffs with 30-day pre-launch giveaways, a tradition begun with 4moms' original mamaRoo last March. Giveaway entries for the Cleanwater Collection numbered well into the thousands, while entries for the mamaRoo plush reached tens of thousands.
"Consumers and retailers have been extremely excited to get both of these products," says Patrick Brady, Director of Sales for 4moms. "Several of our best stores sold out of Cleanwater Collections within the first week of the launch, and due to demand, two SKUs of the mamaRoo plush are already backordered. We've ramped up production and are looking forward to getting both products to more customers."
Both products are available online and in stores nationwide. The Cleanwater Collection retails for $89.99, the mamaRoo plush for $239.99. For more information, visit http://www.4moms.com.
About 4moms
Frequently referred to as "the Apple of the juvenile industry," 4moms began with a focus group of five moms from Mt. Lebanon, PA, who inspired the company's name (but 4moms sounds better than 5moms, so one mother took the title "The Stealth Mom"). Their experience (they have fifteen kids between them; one has two, yes two! sets of twins) plus the expertise of a team of twenty-two engineers, researchers, and developers gives 4moms its innovative edge in the field of juvenile product design.
4moms is a brand of Thorley Industries, Inc., a 5-year-old company that develops and markets products for the $7.0 billion juvenile products industry. 4moms' award-winning products are available at more than 500 of the top specialty retailers nationwide as well as several national web retailers. For more specifics on all 4moms' products, visit http://www.4moms.com.
###