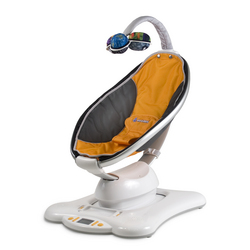 The response to the launch of the mamaRoo has been nothing short of astounding
Pittsburgh, PA (Vocus) March 3, 2010
4moms has announced a major giveaway to celebrate the upcoming launch of its innovative and award-winning infant seat, the mamaRoo. Beginning February 26, when the mamaRoo becomes available for pre-order, 4moms will give away one mamaRoo every day for sixty days, ending the contest only when the product hits stores on April 30. The giveaway is currently underway, attracting hundreds of entrants daily. Four winners have already been announced, but there are still lots of chances to win. Hopefuls can enter daily on 4moms' website, and every day 4moms will announce a new winner.
Retailers have begun accepting pre-orders for the mamaRoo and demand has been very high. The product will be in limited supply for some time, but giveaway winners will be part of the lucky group to get their units on the April 30th launch date.
"The response to the launch of the mamaRoo has been nothing short of astounding," says Rob Daley, CEO of 4moms. "And not just to the giveaway, but to the product itself. Retailers have started accepting pre-orders and initial production has been completely sold out. We're working hard to increase our capacity, but at this point the best way to get a unit soon is to place a pre-order or to be one of our lucky winners."
About the mamaRoo
The only infant seat of its kind, the mamaRoo takes a unique approach to motion: it moves "like you do." Parents don't vibrate like bouncy seats or swing like swings. They bounce and sway, and so does the mamaRoo. Combining sleek, modern design with an innovative approach to motion, the mamaRoo offers parents a better option for soothing and entertaining their children. The mamaRoo won the JPMA Innovation Award in 2008.
Features: five unique motions, five nature sounds, adjustable speeds, toys inspired by classical artists, mp3 hookup, reclining seat, machine-washable fabric in six different colors.
Specs: weight limit 25 lbs. or until the child sits up unassisted, product weighs 14 lbs, six-month warranty. Not wanting to add batteries to landfills, the mamaRoo runs on wall power only. MSRP: $199.99.
About 4moms
Frequently referred to as "the Apple of the juvenile industry," 4moms began with a focus group of five moms from Mt. Lebanon, PA, who inspired the company's name (but 4moms sounds better than 5moms, so one mother took the title "The Stealth Mom"). Their experience (they have fifteen kids between them; one has TWO, yes TWO sets of twins) plus the expertise of a team of eleven engineers, researchers, and developers gives 4moms its innovative edge in the field of juvenile product design.
4moms is a brand of Thorley Industries, Inc., a 4-year-old company that develops and markets products for the $7.0 billion juvenile products industry. 4moms' award-winning mamaRoo are available at more than 200 of the top specialty retailers nationwide as well as several national web retailers. For more specifics on all 4moms' products, visit their website at http://www.4momsonline.com.
###