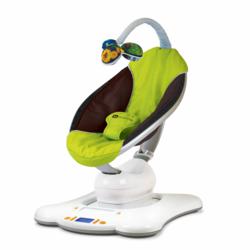 Tongal gives the 4moms community the ability to participate in our marketing in a real way – and earn money for their creative ideas!
Pittsburgh, PA (PRWEB) July 15, 2011
4moms is pleased to announce a new project with Tongal, the leading creative social platform, to concept and produce 60-second commercials about the mamaRoo, an infant seat designed to bounce and sway, moving just like parents do. A total of $20,000 in cash prizes will be awarded for the top concept, pitch and video creation submitted by Tongal users.
"4moms has a long history of tapping into the expertise of those who know best – the real parents who use our products – to drive innovation and shape product design and development," said Rob Daley, CEO at 4moms. "Tongal provides us the platform necessary to continue this tradition and gives our community the ability to participate in our marketing in a real way – and earn money for their creative ideas!"
Tongal's platform allows users from all over the world to create video content for different types of brands and businesses. At Tongal, there's a place for everyone to participate and earn money, regardless of their skill set. In return, brands get high-quality video content for a fraction of the cost of traditional marketing campaigns, all while propelling undiscovered talent.
"When my wife and I received a mamaRoo as a gift, I fell in love with the product's design, functionality and effectiveness and knew that their innovative design was a perfect fit for Tongal's innovative process—so I reached out to Rob immediately. I'm genuinely excited as the mamaRoo project represents the first time our community has had a chance to create content for the parenting industry," said James DeJulio, President and Co-Founder of Tongal. "It's a new way to connect 4moms with the moms who know and love their products."
This project begins July 19th. Worth a total of $20,000, the project will consist of three phases: a concept phase, a pitch phase and a video phase. For more information on the mamaRoo project with Tongal or to enter, please visit: http://www.tongal.com/mamaroo.
About Tongal
Tongal is the leading creative social platform that empowers companies to tap into its crowdsourcing model to concept and produce video campaigns that catapult the brand above the noise for a fraction of the cost while propelling undiscovered talent. Tongal launched in 2009 and is based in Santa Monica, CA. For more information, please visit http://tongal.com.
About the mamaRoo
The only infant seat of its kind, the mamaRoo takes a unique approach to motion: it moves "like you do." Parents don't vibrate like bouncy seats or swing like swings. They bounce and sway, and so does the mamaRoo. Combining sleek, modern design with an innovative approach to motion, the mamaRoo offers parents a better option for soothing and entertaining their children.
About 4moms
Frequently referred to as "the Apple of the juvenile industry," 4moms began with a focus group of five moms from Mt. Lebanon, PA, who inspired the company's name (but 4moms sounds better than 5moms, so one mother took the title "The Stealth Mom"). Their experience (they have fifteen kids between them; one has two, yes two! sets of twins) plus the expertise of a team of twenty-two engineers, researchers, and developers gives 4moms its innovative edge in the field of juvenile product design.
4moms is a brand of Thorley Industries, Inc., a 5-year-old company that develops and markets products for the $7.0 billion juvenile products industry. 4moms' award-winning products are available at more than 500 of the top specialty retailers nationwide as well as several national web retailers. For more specifics on all 4moms' products, visit their website at http://www.4moms.com.
###