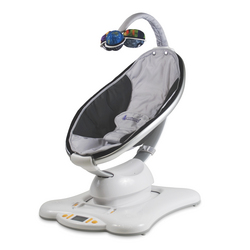 We're very excited to launch the mamaRoo in the UK
Pittsburgh, PA (Vocus) July 26, 2010
4moms is pleased to announce the launch of its mamaRoo infant seat in the United Kingdom. This award-winning product is carried by over 300 retailers in the US, and beginning next month, it will be available from select Mothercare stores in the UK.
Founded in 1961, Mothercare has more than 1,000 stores around the world, over 300 of which are in the UK. They specialize in products for expecting mothers, babies, and young children. The 4moms mamaRoo will be available at select Mothercare locations in the UK, as well as in their mail-order catalog and on mothercare.com.
In preparation for the mamaRoo's UK launch, 4moms rebranded their UK inventory with the logo 4mums mamaRoo. The company has also created a version of their website specifically for UK consumers, http://www.4mumsonline.com (accessible to US viewers via the flag icon at the bottom of each 4momsonline page), as well as a UK version of their popular Insider program.
"We're very excited to launch the mamaRoo in the UK," says Robert Daley, CEO of 4moms. "It's thrilling to be able to share a product that's been so popular in the US with another market, and it's great to work with a company like Mothercare. They're experienced, they have an extensive network of retail locations, and their stores are beautiful. We're expecting the mamaRoo will do extremely well."
About the mamaRoo
The only infant seat of its kind, the mamaRoo takes a unique approach to motion: it moves "like you do." Parents don't vibrate like bouncy seats or swing like swings. They bounce and sway, and so does the mamaRoo. Combining sleek, modern design with an innovative approach to motion, the mamaRoo offers parents a better option for soothing and entertaining their children. The mamaRoo has won multiple awards, most recently The National Parenting Center's Seal of Approval in 2010.
Features: five unique motions, five nature sounds, adjustable speeds, toys inspired by classical artists, mp3 hookup, reclining seat, machine-washable fabric in six different colors.
Specs: weight limit 25 lbs (9 kg in the UK) or until the child sits up unassisted, product weighs 14 lbs (6.4 kg), six-month warranty. Not wanting to add batteries to landfills, the mamaRoo runs on wall power only. MSRP: $199.99 (GBP £199.99)
About 4moms and Thorley Industries
Frequently referred to as "the Apple of the juvenile industry," 4moms began with a focus group of five moms from Mt. Lebanon, PA, who inspired the company's name (but 4moms sounds better than 5moms, so one mother took the title "The Stealth Mom"). Their experience (they have fifteen kids between them; one has two, yes two! sets of twins) plus the expertise of a team of fourteen engineers, researchers, and developers gives 4moms its innovative edge in the field of juvenile product design.
4moms is a brand of Thorley Industries, Inc., a 4-year-old company that develops and markets products for the $7.0 billion juvenile products industry. 4moms' award-winning products are available at more than 300 of the top specialty retailers in the US as well as several national web retailers. For more specifics on all 4moms' products, visit their website at http://www.4momsonline.com, or http://4mumsonline.com in the UK.
###