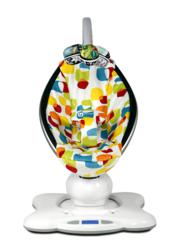 We strive to always be a company that proactively improves wherever we can.
Pittsburgh, PA (PRWEB) May 01, 2012
4moms has made a great product even better: they've updated their popular mamaRoo infant seat to create "the best mamaRoo yet." The mamaRoo, which launched in April of 2010, has consistently met or exceeded the company's sales expectations and is now available in over 500 stores, but 4moms still saw room for improvement.
"The mamaRoo has always been a great product," says Rob Daley, CEO of 4moms. "Customers love it and it sells tremendously. But we saw ways to make a good thing even better, and we strive to always be a company that proactively improves wherever we can."
Updates to the mamaRoo include: faster speeds, a sleeker interface, a locking toy bar, a one-year warranty, and six new fabric designs. The price, weight limit, and other specs of the mamaRoo remain unchanged. Updated units are available in stores and online now.
About the mamaRoo
The only infant seat of its kind, the mamaRoo takes a unique approach to motion: it moves "like you do." Combining sleek, modern design with an innovative approach to motion, and with features like adjustable speeds and an mp3 hookup, the mamaRoo offers parents a better option for soothing and entertaining their children.
About 4moms
4moms has introduced robotics technology to the juvenile industry, creating innovative, well-designed products that meet parents' real needs. The experience of the four namesake moms who formed the company's first focus group, plus the expertise of a team of over forty engineers, designers, and developers, gives 4moms its innovative edge in the field of juvenile product design and has put their products in over 500 stores in 17 countries.
4moms is a brand of Thorley Industries, LLC, a 6-year-old company that develops and markets products for the $7.0 billion juvenile products industry. For more specifics on all 4moms' products, visit http://www.4moms.com.