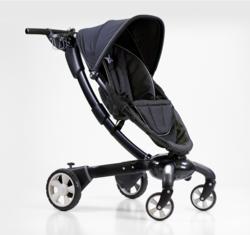 We're very excited at the number of people who simply can't wait to get the Origami.
Pittsburgh, PA (PRWEB) May 23, 2011
To celebrate the upcoming launch of its Origami Power-Folding Stroller, 4moms has created an Early Ownership Program unlike anything the juvenile industry has seen before. Consumers now have the opportunity to purchase a pre-production Origami stroller months ahead of the national launch, for a substantial discount, and will receive special exclusive access to the 4moms Development Team to help perfect the final version of the Origami Stroller.
Through May 27, consumers can sign up online to receive their pre-production Origami stroller on July 15 (months before the Origami's launch this fall). When the Origami makes its official debut, it will retail for $849.99, but participants in the Early Ownership Program pay only $499.99. Pre-production units are very, very close to final units, but 4moms anticipates some bugs and glitches, so early purchasers receive the same 2-year warranty as will be offered on the final Origami with 4moms' guarantee that any broken parts will be replaced for absolutely no cost. Early Owners also receive exclusive access to 4moms' engineers and designers, to give feedback and be part of making the final adjustments to the stroller.
Since opening the program last Friday, enrollments have been greater than anticipated. "We're very excited at the number of people who simply can't wait to get the Origami," says Rob Daley, CEO of 4moms. "It's an incredible opportunity: Early Owners can purchase Origami accessories at a discount, they'll get limited edition swag and direct access to our product developers, and most importantly, they get indisputable bragging rights as the first people anywhere to own the world's first power-folding stroller. We're expecting to run out of spots soon."
For more details or to sign up for the Origami Early Ownership Program, visit http://www.4moms.com/origami.
About the Origami
As the first stroller to fold at the push of a button, the Origami offers parents a new level of ease when traveling with their children. A built-in generator in the stroller's rear wheels charges the stroller as it's pushed, and also lets parents charge their cell phones. Additionally, the Origami has daytime running lights and pathway lights for safety, four-wheel suspension, and an LCD in its handle bar that displays a thermometer, speedometer, and odometer. Child safety sensors in the seat ensure the stroller won't fold by accident.
About 4moms
Frequently referred to as "the Apple of the juvenile industry," 4moms began with a focus group of five moms from Mt. Lebanon, PA, who inspired the company's name (but 4moms sounds better than 5moms, so one mother took the title "The Stealth Mom"). Their experience (they have fifteen kids between them; one has two, yes two! sets of twins) plus the expertise of a team of twenty-two engineers, researchers, and developers gives 4moms its innovative edge in the field of juvenile product design.
4moms is a brand of Thorley Industries, Inc., a 5-year-old company that develops and markets products for the $7.0 billion juvenile products industry. 4moms' award-winning products are available at more than 500 of the top specialty retailers nationwide as well as several national web retailers. For more specifics on all 4moms' products, visit their website at http://www.4moms.com.
###