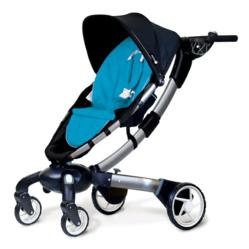 The best way to get an Origami soon is to place a pre-order or to be one of our lucky winners.
Pittsburgh, PA (PRWEB) December 05, 2011
Today, 4moms begins a major giveaway to celebrate the upcoming launch of its eagerly awaited power-folding stroller, the Origami. Beginning December 6, 4moms will give away one Origami (an $850 value) every day for thirty days, ending the contest only when the stroller hits stores nationwide on January 6, 2012. Hopefuls can enter daily at http://www.4moms.com, and every day 4moms will announce a new winner.
Select pre-launch retailers began taking Origami pre-orders on November 15, and will receive limited inventory in mid-December. Demand for the world's first power-folding stroller, which will launch with widespread availability on January 6, has been very high. The product will be in limited supply for some time, but giveaway winners will be part of the lucky group to get units early in the new year.
"We can't wait for the world to get its hands on the Origami," says Rob Daley, CEO of 4moms. "Our pre-launch retailers have received tons of attention to their floor models, and pre-orders are stacking up. We're working hard to increase our production so as to meet demand, but at this point the best way to get a unit soon is to place a pre-order or to be one of our lucky winners."
To pre-order an Origami in advance of the national launch, visit a pre-launch retailer near you or pre-order online. To enter the giveaway, visit http://www.4moms.com.
About the Origami
Strollers are all the same and haven't changed for decades. That's why 4moms developed the Origami power-folding stroller. At the touch of a button, it folds itself. It's also a cell phone-charging, mileage-counting, LCD-sporting stroller, with generators in the rear wheels that charge it as you walk. Plus, the Origami has daytime running lights, pathway lights for low-light conditions, and sensors that detect when a child's in the seat (so it'll never fold by accident).
From power folding to cell phone charging, the Origami is what strollers should be. The Origami won the Kind+Jugend Innovation Award and Popular Science magazine's "Best of What's New" award in 2011.
About 4moms
Frequently referred to as "the Apple of the juvenile industry," 4moms began with a focus group of five moms from Mt. Lebanon, PA, who inspired the company's name (but 4moms sounds better than 5moms, so one mother took the title "The Stealth Mom"). Their experience (they have fifteen kids between them; one has two, yes two! sets of twins) plus the expertise of a team of thirty-one engineers, researchers, and developers gives 4moms its innovative edge in the field of juvenile product design.
4moms is a brand of Thorley Industries, Inc., a 5-year-old company that develops and markets products for the $7.0 billion juvenile products industry. 4moms' award-winning products are available at more than 500 of the top specialty retailers nationwide as well as several national web retailers. For more specifics on all 4moms' products, visit their website at http://www.4moms.com.
# # #