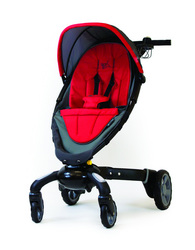 It's going to revolutionize the stroller industry
Pittsburgh, PA (Vocus) September 29, 2010
4moms will announce the launch date of its highly anticipated Origami Stroller at the upcoming All Baby and Child Expo in Las Vegas. The Origami is the world's first power-folding stroller, and consumers and retailers alike are eager to purchase this innovative product.
As the first stroller to fold at the push of a button, the Origami offers parents a new level of ease when traveling with their children. A built-in generator in the stroller's rear wheels charges the stroller as it's pushed, and also lets parents charge their cell phones. Additionally, the Origami has daytime running lights and pathway lights for safety, four-wheel suspension, and an LCD in its handle bar that displays a thermometer, speedometer, and odometer. Child safety sensors in the seat ensure the stroller won't fold by accident.
"It's going to revolutionize the stroller industry," says Rob Daley, CEO of 4moms. "We're thrilled to be so close to releasing the Origami, and so are retailers and consumers. There's always been a huge amount of interest in this stroller, and we know as the launch gets closer there's going to be even more, especially after we show the newly updated models at the upcoming expo."
In addition to announcing the Origami's launch date and showcasing the latest model at the ABC Expo, 4moms will introduce design updates to its popular mamaRoo infant seat and debut a new product in the bath space. The ABC Expo will take place from October 10-13 at the Las Vegas Convention Center.
About 4moms
Frequently referred to as "the Apple of the juvenile industry," 4moms began with a focus group of five moms from Mt. Lebanon, PA, who inspired the company's name (but 4moms sounds better than 5moms, so one mother took the title "The Stealth Mom"). Their experience (they have fifteen kids between them; one has two, yes two! sets of twins) plus the expertise of a team of fourteen engineers, researchers, and developers gives 4moms its innovative edge in the field of juvenile product design.
4moms is a brand of Thorley Industries, Inc., a 5-year-old company that develops and markets products for the $7.0 billion juvenile products industry. 4moms' award-winning products are available at more than 250 of the top specialty retailers nationwide as well as several national web retailers. For more specifics on all 4moms' products, visit their website at http://www.4moms.com.
###