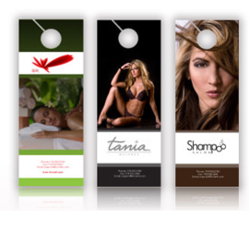 Door hangers are unavoidable at hospitality environments and have the ability of being read without ever being moved, and this reduces the need for replacement printing
Astoria, NY (PRWEB) May 29, 2012
4OVER4.COM, a leading provider of digital and offset printing services including flyer printing, banner printing, booklet printing and other custom printing applications has launched a new and improved door hangers printing service for businesses.
Door hangers are a PR tool with a difference – they are non-invasive and quite dormant but also very effective. They are cost-savers because they have very low reprinting requirements since they are generally not removed by customers.
A typical door hanger will always be seen by a customer, and with the right combination of vivid graphics and a brief but powerful message, they will always effectively market their content. Hotels and other hospitality establishments that frequently use door hangers also save significantly when printing door hangers than other forms of advertisement because they generally may not need to print on more than a single occasion for an entire year, since the door hangers generally have a long life and will not need to be reprinted except to change product details, contact numbers, changed hotel names and addresses, and so on.
A discreet but highly effective PR and marketing tool, door hangers are well suited to their niche markets which include guest houses, motels, hotels and other similar locations. For the non-hospitality sector, door hangers find application mainly as corporate gift items.
4OVER4.COM now provides a more comprehensive door hangers printing service for business which features sizes of 3.5" x 8.5", 4.25" x 14", 3.5" x 11" and 4.25" x 11". 4OVER4.COM door hangers are also now available in 14pt gloss cover and 16pt gloss cover, and customers can order between 250 and 25,000 prints at a go.
"As PR tools, door hangers are very effective and their non-invasive nature makes them very suitable for discreet use in hospitality environments especially. Door hangers are unavoidable at such locations and have the ability of being read without ever being moved, and this reduces the need for replacement printing," says 4OVER4.COM Principal Taso Panagiotopoulos.
For more information about the door hangers printing service from 4OVER4.COM or for any updates and inquiries, please visit 4over4.com/printing/Door-Hangers, email support(at)4over4(dot)com or call the 4OVER4.COM customer care line on 1-718-932-2700.
About 4OVER4.COM
Online printing company 4OVER4.COM, an NYC printing firm, is a green printing company that serves tens of thousands of clients nationally and whose printing New York facility began operations in 1999.4OVER4.COM provides unmatched technical and customer support and instant online pricing and ordering for full color printing services since 1999, 4OVER4.COM has offered free expert file review and free online proofs without any obligation to purchase. As a green printing company, we are strongly oriented towards sustainable environmental renewal, and we are happy to lead the way with environmentally and socially responsible printing practices and projects among national as well as New York Printers.