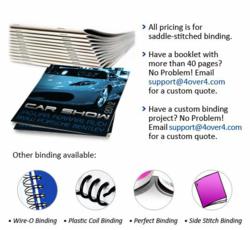 4OVER4.COM is known for affordable, high quality professional printing services. Our customers place their orders with us knowing that we always deliver to their exact specifications – both in terms of budget, quality, turnout and deadlines – every time
Astoria, NY (PRWEB) June 22, 2012
4OVER4.COM, a leading provider of digital and offset printing services including flyer printing, banner printing, booklet printing and other custom printing applications has launched a special discount printing offer for TV production companies that will enable them access significant savings on their monthly and annual promotional printing operations.
TV production companies are usually involved with various types of TV productions of entertainment value. The success of any TV production company largely depends on how well the company and its products are marketed and advertised, both to investors, partners and the general public – this will influence how well the company is perceived and will go a long way to give credibility to its productions and this has a direct effect on sales as well.
The importance of print-based promotion, marketing and advertising campaigns (usually in the form of posters, flyers, banners, billboards and others) simply cannot be overstated, and TV production companies usually have a need to produce large amounts of printing on a running basis. 4OVER4.COM contributes to the internal cost control measures of TV production companies by providing its special discounts on bulk printing activities which they carry out through the company.
4OVER4.COM has established a reputation as a provider of quality and affordable professional printing services which are served to customers through its secure and efficient online print ordering platform. 4OVER4.COM guarantees its customers expedited online ordering, speedy delivery and fast printing. Through its special bulk printing discounts, 4OVER4.COM now offers TV production companies the opportunity to save costs significantly by accessing high quality affordable printing services at lower costs.
"4OVER4.COM is known for affordable, high quality professional printing services. Our customers place their orders with us knowing that we always deliver to their exact specifications – both in terms of budget, quality, turnout and deadlines – every time. We provide professional printing services at affordable rates, and this makes all the difference for our customers with respect to the significant savings they realize when they do their bulk printing work with us," says 4OVER4.COM Principal Taso Panagiotopoulos.
To learn more about the 4OVER4.COM custom printing offer for TV production companies or for general inquiries, please email support(at)4over4.com or call the 4OVER4.COM customer care line on 1-718-932-2700.
About 4OVER4.COM
Online printing company 4OVER4.COM, an NYC printing firm, is a green printing company that serves tens of thousands of clients nationally and whose printing New York facility began operations in 1999.4OVER4.COM provides unmatched technical and customer support and instant online pricing and ordering for full color printing services since 1999, 4OVER4.COM has offered free expert file review and free online proofs without any obligation to purchase. As a green printing company, we are strongly oriented towards sustainable environmental renewal, and we are happy to lead the way with environmentally and socially responsible printing practices and projects among national as well as New York Printers.