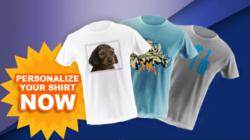 4OVER4.COM is known for its wide range of printing products and services. We continue to expand our offering to add value for our customers and allow them derive maximum satisfaction and optimum utility from the services we render
Astoria, NY (PRWEB) December 26, 2012
4OVER4.COM has included t-shirts printing to its range of quality printing products. Custom printed t-shirts are now available from 4OVER4.COM. 4OVER4.COM is a leader among online printing companies and a provider of quality digital and offset online printing services including catalog printing, cheap banners, custom labels, and other custom printing applications.
Whether for promotions, marketing activities, awareness creation, or for keepsakes, t-shirts prove to be exceptionally useful. T-shirts can be customized for almost any application and make up a very versatile range of printing products for any promotional, marketing or campaign use. The fact that they are affordable also makes them a preferred item with businesses.
4OVER4.COM now offers 100% cotton t-shirts in two standard types: white and black. 4OVER4.COM t-shirts are very high quality and available in sizes from S to XXL, with a print area of 8.5" x 11" (without bleeds, starting 2" below neckline at the FRONT and 5.5" below neckline at the BACK).
Note to customers: Please submit custom artwork at exactly this sizing (8.5" x 11"); do not incorporate bleeds, color marks, registration marks or crop marks (and other printing marks) with files as this will affect the outcome of t-shirt prints.
"4OVER4.COM is known for its wide range of printing products and services. We continue to expand our offering to add value for our customers and allow them derive maximum satisfaction and optimum utility from the services we render," says Taso Panagiotopoulos, principal at 4OVER4.COM.
For more information about the new 4OVER4.COM T-shirts printing service, or for any updates or inquiries, please visit 4over4.com/printing/t-shirts-printing, email support (at) 4over4 (dot) com or call the 4OVER4.COM customer care line on 1-718-932-2700.
About 4OVER4.COM
Online printing company 4OVER4.COM, an NYC printing firm, is a green printing company that serves tens of thousands of clients nationally and whose printing New York facility began operations in 1999.4OVER4.COM provides unmatched technical and customer support and instant online pricing and ordering for full color printing services since 1999, 4OVER4.COM has offered free expert file review and free online proofs without any obligation to purchase. As a green printing company, we are strongly oriented towards sustainable environmental renewal, and we are happy to lead the way with environmentally and socially responsible printing practices and projects among national as well as New York Printers.