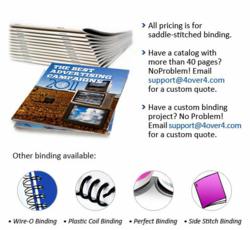 Custom folders printing is essential because custom folders are a great public relations tool that can provide a significant return on investment due to their brand marketing potential when used in public during seminars, conferences and workshops
Astoria, NY (PRWEB) May 28, 2012
4OVER4.COM, a leading provider of digital and offset printing services including flyer printing, banner printing, booklet printing and other custom printing applications has launched a new and improved custom folders printing service for businesses which features more quality printing options, more premium papers and an expedited order processing system.
Custom folders are an indispensable item in public forums such as seminars, conferences and workshops, or in inter-company meetings. They serve a practical function, but possess a PR and marketing capacity as well.
Custom folders are usually branded with a company's logo, phone numbers and address and may provide snapshots of the company's offerings on the back or inside pages. Since people who attend the meetings where these custom folders are handed out usually go home with them, there is also the potential for mass awareness to be created from a single folder.
Another interesting capability of the custom folders is that they generally also hold other PR or marketing materials intended as corporate gifts such as notepads, post-its, flyers, brochures, newsletters, product catalogs and more – further advertising the company and providing yet more sources of potential mass awareness.
4OVER4 now offers a new and improved custom folders printing service for businesses with more quality printing options and expedited delivery. Now available from 4OVER4.COM are 3 quality paper types including 14pt uncoated cover (30% PCW), 14pt white linen and 14pt gloss cover. In addition, two standard sizes of 9" x 14.5" and 9" x 12" can now be ordered from 4OVER4.COM with between 250 and 25,000 prints available per order.
"Custom folders printing is essential because custom folders are a great public relations tool that can provide a significant return on investment due to their brand marketing potential when used in public during seminars, conferences and workshops," says 4OVER4.COM Principal Taso Panagiotopoulos.
For more information about the new and improved custom folders printing service from 4OVER4.COM or for any updates and inquiries, please visit 4over4.com/printing/custom-folders, email support@4over4.com or call the 4OVER4.COM customer care line on 1-718-932-2700.
About 4OVER4.COM
Online printing company 4OVER4.COM, an NYC printing firm, is a green printing company that serves tens of thousands of clients nationally and whose printing New York facility began operations in 1999.4OVER4.COM provides unmatched technical and customer support and instant online pricing and ordering for full color printing services since 1999, 4OVER4.COM has offered free expert file review and free online proofs without any obligation to purchase. As a green printing company, we are strongly oriented towards sustainable environmental renewal, and we are happy to lead the way with environmentally and socially responsible printing practices and projects among national as well as New York Printers.