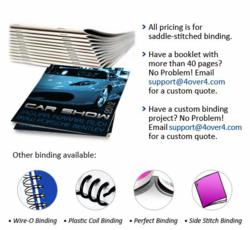 4OVER4.COM customers can now order new and improved flat invitations printing from 4OVER4.COM and access an expanded suite of new premium papers, more affordable pricing and extended printing options
Astoria, NY (PRWEB) May 29, 2012
4OVER4.COM, a leading provider of digital and offset printing services including flyer printing, banner printing, booklet printing and other custom printing applications has introduced a suite of expanded flat invitations printing services featuring premium high quality papers, more affordable pricing, and improved printing options.
Flat invitations are indispensable tools in both business and private settings. There are always events to organize and attend and invitations must always be printed – with flat invitations being the most common form of printed invitations for events of any type and scale.
Gala nights, awards ceremonies, fund-raisers, charity balls, birthday parties, corporate parties, annual celebrations, marriages, social announcements, book launches, new openings – just a few of the many occasions on which flat invitations are used.
In terms of marketing potential, flat invitations need to be optimized especially in corporate printing to improve quality as well as include corporate branding and business contact information. It may be too much to directly display product information on printed flat invitations, but it is acceptable to print the company logo as well as corporate and contact information in a non-intrusive way.
The major selling power of flat invitations as a form of marketing communication lies in quality. High quality invitations inspire awe in the recipients, who would then be keen to know the company that sent the invitation. A poorly printed invitation may not inspire the recipient to know about the sender.
4OVER4.COM customers can now access a new suite of improved flat invitations printing services that provides new premium papers including 15pt metallic pearl champagne, 15pt metallic pearl gold, 15pt metallic pearl ice, 16pt gloss cover, 14pt white linen, 14pt gloss cover, 14pt uncoated cover (30% PCW) and 15pt metallic pearl silver, as well as sizes of 6" x 6", 4.25" x 5.5" and 5" x 7". Customers can also now access between 25 and 100,000 prints per order.
"4OVER4.COM customers can now order new and improved flat invitations printing from 4OVER4.COM and access an expanded suite of new premium papers, more affordable pricing and extended printing options," says 4OVER4.COM Principal Taso Panagiotopoulos.
For more information about 4OVER4.COM flat invitations printing or for any updates or inquiries, please visit 4over4.com/printing/flat-invitations, email support(at)4over4(dot)com or call the 4OVER4.COM customer care line on 1-718-932-2700.
About 4OVER4.COM
Online printing company 4OVER4.COM, an NYC printing firm, is a green printing company that serves tens of thousands of clients nationally and whose printing New York facility began operations in 1999.4OVER4.COM provides unmatched technical and customer support and instant online pricing and ordering for full color printing services since 1999, 4OVER4.COM has offered free expert file review and free online proofs without any obligation to purchase. As a green printing company, we are strongly oriented towards sustainable environmental renewal, and we are happy to lead the way with environmentally and socially responsible printing practices and projects among national as well as New York Printers.