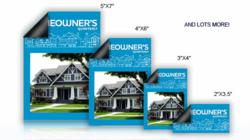 Magnets are useful in all kinds of ways and even find applications in product marketing and PR. They can be used to package PR gifts like magnetic mirrors, memo holders, and more. Beyond PR, they can also be used outdoors for signs and labeling
Astoria, NY (PRWEB) May 31, 2012
4OVER4.COM, a leading provider of digital and offset printing services including flyer printing, banner printing, booklet printing and other custom printing applications for businesses now provides a more comprehensive magnets printing service which includes a custom-size magnets printing with an extended order limit, improved quality 17pt magnet, expedited turnarounds and simplified online ordering.
Magnets are preferred for use in marketing applications for a number of reasons including cost-efficiency, versatility, ease-of-use and attractiveness. Magnets are inexpensive to design and use, even though good quality magnets can only be produced by print professionals with the right equipment.
Of course, magnets are very durable and can be deployed in almost any suitable environment with metallic surfaces - on cars, fridge doors, whiteboards, and more. They are also repositionable, and that adds to their cost-efficiency. Magnets can be used to promote businesses of any type, and they are so attention-grabbing that passers-by can't resist taking a look.
Magnets can be used to put up signs in industrial or offsite locations, as well as to decorate dull interiors. Other types of magnets include calendar magnets (these serve as date reminders, PR gifts and marketing tools for businesses), notepad magnets (these can be used to hold up grocery lists and other to-do lists as well) and save-the-date magnets, which are creative reminder tools that can be used as personal or PR gifts.
4OVER4.COM now provides its customers with an expanded suite of new and improved magnets printing services which now features 17pt indoor magnets in various sizes including 2" x 3.5", 4" x 6", 3" x 4", 5" x 7" and "Any Size" custom-sized magnet prints. 4OVER4.COM customers can now order between 25 and 25,000 prints at a go.
"Magnets are useful in all kinds of ways and even find applications in product marketing and PR. They can be used to package PR gifts like magnetic mirrors, memo holders, and more. Beyond PR, they can also be used outdoors for signs and labeling," says 4OVER4.COM Principal Taso Panagiotopoulos.
For more information about magnets printing or for any updates and inquiries, please visit 4over4.com/printing/magnets, email support(at)4over4(dot)com or call the 4OVER4.COM customer care line on 1-718-932-2700.
About 4OVER4.COM
Online printing company 4OVER4.COM, an NYC printing firm, is a green printing company that serves tens of thousands of clients nationally and whose printing New York facility began operations in 1999.4OVER4.COM provides unmatched technical and customer support and instant online pricing and ordering for full color printing services since 1999, 4OVER4.COM has offered free expert file review and free online proofs without any obligation to purchase. As a green printing company, we are strongly oriented towards sustainable environmental renewal, and we are happy to lead the way with environmentally and socially responsible printing practices and projects among national as well as New York Printers.