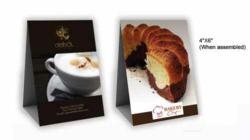 Table tents are exceptionally good PR and marketing tools for both indoor and outdoor use because of their low price point and wide range of custom applications and deployment areas
Astoria, NY (PRWEB) May 31, 2012
4OVER4.COM, a leading provider of digital and offset printing services including flyer printing, banner printing, booklet printing and other custom printing applications has introduced a new improved table tents printing service for businesses, which allows them to enjoy the benefits that come with selecting table tents as a PR/marketing or advertisement strategy for a lower price and with more great-value printing options.
Table tents are a full-featured promotional and marketing item. Table tents can be converted for different deployment environments – corporate (with calendar on the back, etc.), leisure and dining (in hotel lounges, restaurants, etc.), and more, depending on what is required. Table tents are very adaptable and can fit nearly every promotional/PR strategy – corporate PR, corporate gifting, political campaigns, virtually every scenario in which PR is involved.
Table tents are dynamic because they can either be adapted for only marketing purposes and promotions, or they could be used for information dissemination or sensitization campaigns. Some of the factors which attract investors to table tents are their real marketing potential and their affordable price point. Price point is always an important factor to consider when planning a marketing or advertisement campaign because of the usually large scale of campaigns and the desire for cost saving.
With regards to marketing potential, table tents have a wide range of possible custom uses and deployment zones. It is possible for table tents to be deployed at meetings, cafes, restaurants, conferences, bistros, workshops, seminars, and so on.
4OVER4.COM now provides its customers and business clients with a new and improved table tents printing offer featuring the standard 4" x 16.25" (when flat) or 4" x 6" size, and a selection of premium 14pt gloss cover paper available from 250 to 25,000 prints per order.
"Table tents are exceptionally good PR and marketing tools for both indoor and outdoor use because of their low price point and wide range of custom applications and deployment areas," says 4OVER4.COM Principal Taso Panagiotopoulos.
For more information about the 4OVER4 table tents printing service or for any updates and inquiries, please visit 4over4.com/printing/table-tents, email support (at) 4over4 (dot) com or call the 4OVER4.COM customer care line on 1-718-932-2700.
About 4OVER4.COM
Online printing company 4OVER4.COM, an NYC printing firm, is a green printing company that serves tens of thousands of clients nationally and whose printing New York facility began operations in 1999.4OVER4.COM provides unmatched technical and customer support and instant online pricing and ordering for full color printing services since 1999, 4OVER4.COM has offered free expert file review and free online proofs without any obligation to purchase. As a green printing company, we are strongly oriented towards sustainable environmental renewal, and we are happy to lead the way with environmentally and socially responsible printing practices and projects among national as well as New York Printers.