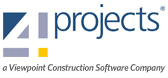 We recognize the importance customers place on a partner who listens to their needs and drives software improvements that enhance user experience and facilitate better collaboration
Sunderland, United Kingdom (PRWEB) April 15, 2013
4Projects, a Viewpoint Construction Software® company, announced today the availability of the latest version of the award winning 4Projects construction project collaboration software, offering key updates to enable project teams to increase and improve collaboration, resulting in the ability to make better, more timely business decisions.
Key enhancements to the product include a completely redesigned Matrix Transmittal feature which provides the option to schedule a transmittal automatically at whichever time and frequency is required. In addition, once a transmittal is created and scheduled the process of notifying the project team is now completely automated.
Also included in this release is an enhanced workflow process that includes is a 'weighted voting' option that guides the workflow process. A new 'quick vote' feature enables an override of a specified outcome and avoids keeping rejected documents in the workflow saving time and providing more transparency into the workflow.
"We recognize the importance customers place on a partner who listens to their needs and drives software improvements that enhance user experience and facilitate better collaboration," stated Richard Vertigan, Managing Director with 4Projects. "For example, we've added a feature that makes it much easier to get documents into folders with new email drop box functionality – and this came directly from customer input."
About 4Projects, a Viewpoint Construction Software Company
Named 2012 Collaboration Software of the Year by Construction Computing Magazine, 4Projects' cloud-based products offers diverse project stakeholders and construction teams the ability to access, manage, distribute, mark-up and audit drawings, submittals, RFI's, issues and other construction and pre-construction documents. Parent company, Viewpoint Construction Software, has a long-standing focus on meeting the information needs of construction companies, achieving a leadership position in offering construction-specific enterprise resource planning, as well as point solutions including mobile field-to-office and enterprise content management. Available as cloud, SaaS, mobile, and on-premise solutions, our configurable and scalable products address the unique needs of leading Engineering and Construction firms throughout the U.S., Australia, Canada, Europe and the U.K. For more information visit http://www.4projects.com and/or http://www.viewpointcs.com.
© 2013 Coaxis, Inc. dba Viewpoint Construction Software. All Rights Reserved. Viewpoint Construction Software®, Viewpoint V6 Software®, Construction Imaging® and 4Projects® are trademarks or registered trademarks of Coaxis, Inc., dba Viewpoint Construction Software in the United States and/or other countries. Other names and brands may be claimed as the property of others.