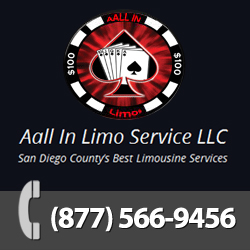 It is very rewarding that I can see people being able to relax and have fun.
San Diego, CA (PRWEB) June 30, 2013
Just like everyone else in United States, San Diegans prepare to celebrate Independence Day on 4th of July 2013. Aall In Limo, San Diego's award winning limousine company, will take you where needed in order to safely celebrate this holiday. Sit back and relax along with friends in one of the luxurious limousines and: attend concerts, fireworks, BBQ parties, picnics, go to your favorite restaurants. Do not worry about driving or intoxicated drivers on the road. Choose you destination and Aall in Limo will do the driving.
Aall In Limo has dedicated, knowledgeable and skilled chauffeurs, who know where the best 4th of July spots are in San Diego. Celebrate at the Annual Big Bay Boom July 4 Fireworks Show, attend old fashioned celebrations at the Old Town 4th of July, or choose picnicking and swimming at Ocean Beach.
Aall In Limo is also available to do cruise ship transfers, transports to concerts and custom transportation. Limousines available are: H2 Hummer Lincoln, a black stretch Lincoln town car or a large capacity limo bus that includes up to 25 passengers.
"I enjoy being the designated driver" – says Mike Reifeiss, owner and operator at Aall In Limo. "It is very rewarding when I see people being able to relax, have fun, making the right choice and celebrating Independence Day safely."
Book a limousine with Aall in Limo, call 858.336.1894 or book online. The staff at Aall In Limo wishes everyone a happy 4th of July.
About Aall In Limo
Aall In Limo, a premiere limousine company in San Diego specializes in professional limousine services at affordable rates. Aall In Limo provides high quality transportation services to many destinations throughout San Diego County. Call 1-858-336-1894 to book your limo today!
# # #