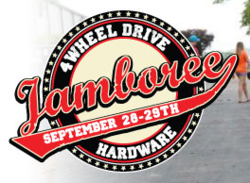 Columbiana, Ohio (PRWEB) October 23, 2012
4Wheel Drive Hardware recently wrapped up its 2012 Bantam Jeep Festival & Jamboree at the 4WD facility in Columbiana, Ohio. The event took place September 29, 2012, with thousands of Jeep enthusiasts in attendance for the large display of custom Jeeps, off-road challenges, food, prizes, and in-store specials. The primarily Jeep-only event also including a rock-crawling obstacle course challenge and a manufacturer's midway with the latest technology on display.
The centerpiece of the Bantam Jeep Festival & Jamboree was the Jeeps on display, most of which belonged to the attendees. Jeep enthusiasts walked around and got up-close looks at the various Jeep accessories, modifications, upgrades, and customizations popular in the current market. Prize giveaways were awarded hourly, with more than $100,000 in prizes – including merchandise and services – given away to attendees. The focus of the festival for the off-road enthusiasts in attendance was the rock-crawling obstacle course set up for Jeeps outfitted for rock crawling to put the upgrades to the test.
Event organizers report a 30% increase in attendance over the Bantam Jeep Festival & Jamboree in 2011. Crowds of all ages also enjoyed food, music, and other family oriented events. 4Wheel Drive Hardware offered special savings on select merchandise, parts, and equipment for Jeeps.
About 4Wheel Drive Hardware:
4Wheel Drive Hardware is a top industry provider of Jeep parts and accessories, with a focus and passion for the off-road industry. Find all the latest Jeep products and connect with other Jeepers around the world at 4WD.com. 4Wheel Drive Hardware supplements its retail centers with a robust mail-order and e-commerce distribution network to serve customers around the country and around the world. 4 Wheel Parts carries a large inventory of truck and Jeep accessories, including lift kits, tonneau covers, tires, winches, and more.