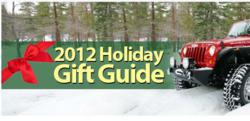 The 4WD.com team designed the Holiday Gift Guide with today's online buyer in mind.
Columbiana, OH (PRWEB) December 05, 2012
Leader in truck, Jeep, and SUV aftermarket parts 4Wheel Drive Hardware launches Holiday Gift Guide which conveniently breaks down sections into price ranges. For the budget-minded shopper, a large Gifts Under $25 selection features great competitively priced products that deliver maximum value for your buck. The Gifts Under $50 selection includes popular items marked down from regular prices for the holiday season. Shoppers will find outstanding deals on parts and accessories for the proverbial hard-to-shop for person on their Christmas list. New products such as Smittybilt's XRC 3 Winch and Piaa Lighting Replacement bulbs in the Gifts Under $100 and $150 sections respectively join 4Wheel Drive Hardware's extensive selection of world-class truck, Jeep, and SUV aftermarket parts.
The Other Great Gift Ideas section features major products like Smittybilt seat covers and fender flares to improve form and functionality of any rig. And the Holiday Gift Guide has a section for gift certificates and gift cards in nearly every denomination for giving the gift that allows your recipient to choose that perfect item for their unique application. Some maintain that this option may be in want of that warm, holiday touch, however, with the right words (and the right greeting card), it has the potential for being a very personal Christmas gift for that special someone.
The 4WD.com team designed the Holiday Gift Guide with today's online buyer in mind. With a growing number of customers doing their product research and buying on the internet, 4Wheel Drive Hardware simplifies holiday shopping for site visitors by categorizing products by price. The site gives buyers the option of using the standard navigation which lists prices by product as usual, as the Gift Guide is a supplementary feature added to the site for the Christmas season.
About 4Wheel Drive: 4Wheel Drive at http://www.4wd.com is a retailer and service provider specializing in aftermarket parts for off-road and 4x4 enthusiasts. Located in Ohio, 4Wheel Drive supplements its retail centers with a robust mail-order and e-commerce distribution network to serve customers around the country and around the world. 4Wheel Drive carries a large inventory of truck and Jeep parts, including Smittybilt winch products, Smittybilt gear, tires, Smittybilt nerf bars, and more.