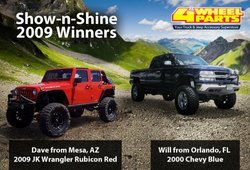 Compton, CA (PRWEB) October 6, 2009
The votes have been cast and the results are in: the winners of the 4 Wheel Parts Show-n-Shine 2009 are Dave Doetsch from Mesa, AZ with his 2009 JK Wrangler Rubicon and Will Ramhold from Orlando, FL with his 2000 Chevy z71. Out of hundreds of entries, the Facebook fans of 4 Wheel Parts chose these two as their favorites and they will each receive a $1000 shopping spree at 4 Wheel Parts and a feature story in Off-Road Adventures Magazine.
This was the 3rd annual Show-n-Shine event for 4 Wheel Parts, the nation's largest distributor of off-road parts for Jeeps, trucks, and SUVs. All 59 nationwide stores participated and saw a great turnout of passionate off-roaders show up with their trucks and Jeeps. Each store chose one Jeep and one truck as the best of the crowd, making it a contest between 59 Jeeps and 59 trucks.
To determine the winners, 4 Wheel Parts decided to bring a new element to the competition this year: Facebook. Since they created their Facebook fan page earlier this year, 4 Wheel Parts has discovered a dedicated community of off-roaders who love to interact through 4 Wheel Parts, so they decided to keep them involved. Once the winners from each store were chosen, pictures of each vehicle were posted in a Show-n-Shine album on the fan page. Anyone who was a fan of 4 Wheel Parts on Facebook could vote for their favorites, and the results were staggering.
Thousands of votes were tallied, and in the end it was Dave Doetsch and Will Ramhold who came out victorious. They will each be receiving a $1000 shopping spree at 4 Wheel Parts and Off-Road Adventures Magazine will have a feature story about them and their vehicles. Next August, a new batch of truck and Jeep owners will have a chance to show off their rides and win their own shopping spree at the 4th Annual Show-n-Shine event.
This is just one of the many ways that 4 Wheel Parts maintains an open interaction with their customers and gives back to those who are passionate about off-roading. Right now they are coming to the end of another contest, this one completely based on Facebook. Fans submitted pictures and videos of their trucks & Jeeps taking on off-road trails with gear from 4 Wheel Parts. The top 5 photo albums and top 5 videos are currently being voted on by the fans, and the winner from each category will receive a $1000 promo card to 4 Wheel Parts.
Not to mention, 4 Wheel Parts gives away a $500 promo card to one random customer every single month. They don't even have to purchase anything to enter - all they have to do is answer a short survey and they're automatically entered to win. No matter what time of year it is, 4 Wheel Parts is always finding a way to give back to their customers.
4 Wheel Parts offers competitive pricing on all leveling kits, tonneau covers, winches, tires, and other off-road parts. To get more information, call 877-885-6474 or visit http://www.4WheelParts.com.
About 4 Wheel Parts: 4 Wheel Parts has been a leading provider of leveling kits, tonneau covers, and other off road vehicle parts for over 40 years. Discover how you can take advantage of these kick back opportunities at http://www.4WheelParts.com.
# # #