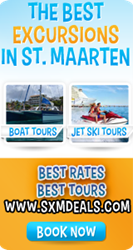 All five of these excursions were picked because they show the most St. Maarten has to offer to visitors staying for only one day.
Philipsburg, St. Maarten (PRWEB) January 30, 2014
SXM Deals, the leading tour operator on island with over 45 tours, shares five excursions in St. Maarten that cruise ship passengers will love while visiting the island.
For visitors in search of excitement, the St. Maarten Jet Ski Excursion is an adventure that will get hearts going faster. Each participant is given his own jet ski and must follow a guide along St. Maarten's coastline for 2 hours and 30 minutes. This excursion goes through Simpson Bay lagoon (The biggest lagoon in the entire Caribbean) all the way up to the French side of the island. The jet ski group then shoots down the Leeward coast past popular beaches such as Mullet Bay, Long Bay and famous Maho Beach. Maho is well known for its very short runway connected to the beach where jumbo planes land only a few feet over beach goers. Riders will also enjoy a quick swim stop to cool down. This is an island excursion that is full of excitement, wave jumping and speed!
For visitors interested in exploring St. Maarten by land, the Bernard Island Guided Tour is a big hit. Everyone hops into an air conditioned mini-van for a full tour of the island. This excursion takes you to many interesting venues such as to a secret location filled with iguanas, to Orient Bay beach for Watersports and swimming, to Marigot for its famous open air local market and then to Maho beach for plane spotting. The guides are very knowledgeable about the island and all its history. This is a great excursion for all ages as it requires very little mobility for those who don't want to walk much and includes plenty of comfort.
For visitors interested in a half day boat ride that involves sightseeing, the Eco Snorkel and Beach Tour in St. Maarten is just perfect for that! Guests settle down on a 27 foot powerboat that cruises past all the best beaches on the Dutch side of the island as it makes its way past Marigot and finally anchors at Creole Rock, a French marine reserve, for snorkeling. This is the best way to see as much as possible of St. Maarten's coastline in only 4 hours.
For visitors that like clothing optional excursions in St. Maarten, the Captain Alan Clothing optional Tour is an excellent choice. A 6 hour powerboat trip all around the island stopping at secluded beaches for bathing in the sun or snorkeling and you don't have to wear anything! Some of the beaches visited on this tour are Happy Bay and Cupecoy bay. Transport can be organized from the cruise ship terminal.
For island explorers, the Grand St. Maarten Beach and Snorkeling Tour is a must! This island hopping tour is another 6 hour powerboat trip that visits the deserted Tintamarre island, popular Pinel island and Creole Rock for snorkeling. Expect to see sea turtles, swim in crystal clear waters and enjoy rum punch throughout the day. This tour departs from Philipsburg right next to the cruise ship terminal.
All five of these excursions were picked because they show the most St. Maarten has to offer to visitors staying for only one day.
About SXM Deals:
St. Maarten is a busy and vibrant island with over 40 of wonderful excursions to enjoy. The island welcomes millions of tourists every year. CEO and founder Michael Rouveure recognized the flourishing tourism industry but wanted to make it easier for guests to enjoy a true island experience. Michael founded SXM Deals in 2011 and has not stopped forging ahead to make traveling to the island and booking tours more convenient for travel agents and travel enthusiasts alike.
To find out more about all the tours in St. Maarten or how to book group tours, go to http://www.sxmdeals.com.
Live the St. Maarten experience now!