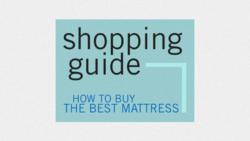 Jersey City, NJ (PRWEB) May 02, 2013
The numerous resources devoted to mattress shopping attest to the fact that choosing the right bed is no easy job. Many people remain unsure where to start or may be tempted to buy the first bed on sale just to skip the headache. Blog TheSleepyShopper.com aims to make the process less stressful with their latest article.
The complete guide, titled "5 Steps to Getting the Best Mattress," is available to the public on their website. In the article, the key steps to successfully buying a mattress are categorized as: select the mattress type, choose the best size, read reviews, check the warranty, and get a good deal. For each step of the process, the blog offers insider information and useful tips for consumers.
First and foremost, the guide identifies the need to determine which type of mattress the shopper seeks. They recommend testing and/or researching a wide variety of beds, and offer statistics showing that the showroom experience should not be solely relied on for selecting a new bed. Based on their previous comparisons of owner satisfaction ratings, the blog recommends plant-based memory foam mattresses from Amerisleep and natural latex from Astrabeds as two options worth considering. The Sleepy Shopper also features a comparison chart borrowed from WhatsTheBestBed.org, which details how innerspring, memory foam, latex, water, and air mattresses compare.
The second step involves choosing the right size based on personal needs and room space, with an illustration of common mattresses sizes included. The importance and value of owner reviews are covered in the third step, with the blog offering tips on where to find and how to assess reviews. In the fourth step, readers are offered an overview of mattress warranties. In the last step, The Sleepy Shopper offers helpful information on how consumers might get the best deal once they identify their desired bed. Highlights include buying near holidays and why consumers should not be afraid to ask for deals.
The importance of selecting a good bed reverberates through the article, as The Sleepy Shopper explains the benefits consumers receive by taking time to become informed and educated on beds. Overall, the guide offers useful ideas and tips likely to prove interesting to those in the market for a new mattress.
TheSleepyShopper.com offers insights and information for consumers, focusing exclusively on mattresses, pillows, bedding and sleep products. Utilizing an accessible, responsive blog format, the website aims to help educate consumers about their options and on making better buying decisions. From industry research, to product reviews, and general guides, the blog is a must-read for anyone in the market for a new mattress.