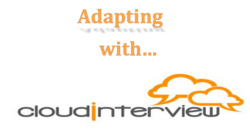 Purchase what you need
Amarillo, TX (PRWEB) May 20, 2013
The U.S. GSA IT Accessibility and Workforce Division defines Section 508 of the Rehabilitation Act of 1973 as a guideline requiring Federal agencies to provide access to electronic and information technology resources for disabled employees and members of the public. According to the Information Technology Technical Assistance and Training Center, (ITTATC) even though the standard is mandated for Federal agencies, many private organizations have adopted the standard as a matter of best practice for developing and disseminating electronic information.
Providing access for disabled users is an issue of high importance for Cloud Interview CEO, Jody Holland, who states, "Our company's mission is to enhance the interview process to help companies and applicants find the best matches for each other. Our clients would be missing a huge populace if those with special needs were not able to access our site and get the information they need."
Cloud Interview provides web-based, on-demand video interviewing services. The video interviewing industry is a quiet, yet burgeoning market. A 2012 survey of HR managers found that in just one year the number who said their organizations at least sometimes used video interviewing jumped from 14% to 63%. While 85% of those surveyed stated they anticipated no change in their use of the technology, 14% said they anticipated a heavier demand on the technology in the near future.
Cloud Interview is a relative newcomer to the industry, but they've brought a real game-changer to the table: no contracts or service fees. Many other providers in the industry insist on monthly or annual subscriptions; in contrast, Cloud Interview has introduced a very convenient "purchase what you need" model. While many other providers in the industry have integrated video interviewing into their existing service portfolio, to complement products like staffing, training, and consulting, Cloud Interview is one of the few who is solely devoted to the video interview product. This type of focus also helps simplify and streamline the use of the service, helping customers get up and running and recording their first video interview questions in as little as 22 minutes.
Cloud Interview is located in Amarillo, TX, established and owned by CEO Jody Holland, with a dedicated team working to make Cloud Interview the best web-based, on-demand video interviewing system in the industry.
For more information about Cloud Interview contact us at:
Jordan Fabrizio (806) 355-5567 (jordan(dot)jo(at)cloudinterview(dot)com)
Website: http://www.cloudinterview.com
Facebook: https://www.facebook.com/Cloudinterview
Twitter: https://twitter.com/cloudinterview