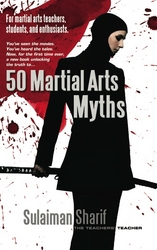 As a teacher, and a teacher of teachers, for many years, I have found that I must first break through my students' misconceptions before they can develop a true appreciation for the world's fighting systems
New York (Vocus) December 19, 2009
From the secrets of the Shaolin Temple to the tales of unstoppable one-touch death moves, myths and misconceptions about the martial arts have been perpetuated for centuries -- and proliferate today on Internet forums, among Ultimate Fighting Championship fans, and even at children's karate classes. Now, Seni Gayong Black Warrior Sulaiman Sharif steps in to set the record straight with his surprising new book, "50 Martial Arts Myths." The 220-page, softcover book is available from Amazon.
"50 Martial Arts Myths" separates fact from fiction and reveals the true story of disciplined fighting skills. Readers will discover what a black belt really says about its wearer, learn why girls often make the best martial artists, find out why some of the softest martial arts forms pack the hardest punches -- and much, much more.
"As a teacher, and a teacher of teachers, for many years, I have found that I must first break through my students' misconceptions before they can develop a true appreciation for the world's fighting systems," said Sulaiman, the highest-ranking black belt in the Malay Warrior Art of Seni Gayong Int. USA. "Only then can they begin to achieve their full potential in the martial arts."
Commonly believed myths debunked by Sulaiman's martial arts book include --

The Shaolin Monastery is the origin of all martial arts;
The West has no martial arts tradition of its own;
Kung fu is the most popular martial art;
If you're good at sparring, you're ready for fighting;
Mixed martial arts is a modern invention that prioritizes bloodshed over skill;
Top martial artists have to register their hands as weapons;
Martial artists compete in secret death matches;
Martial arts is the same as self-defense;
Qi can't really turn you into a better martial artist;
Martial artists have to be subservient to their instructors;
A true martial artist will never reveal his secrets.
Sulaiman is an expert to whom the world's leading martial arts teachers turn when they seek guidance. A teacher's teacher, he was personally selected by Silat Gayong's founder, the late Dato' Meor Abdul Rahman, to propagate the fighting system around the world. He taught in Europe and the United States for two decades before returning to Malaysia after founding Gayong International USA, which he leads today. His 45 years of experience in the martial arts have allowed him to teach Silat Seni Gayong to martial artists from dozens of disciplines including krav maga, kung fu, tae kwon do and karate.
Leading martial arts authorities praise the book:
Ric Meyers, author of "Great Martial Arts Movies," editor of "Inside Kung Fu" magazine, and member of the World Martial Arts Hall of Fame --
"As a student, fan, and now a professor of both martial arts as well as martial art movies, I'm pleased that Sulaiman Sharif has finally debunked the myths that many of my readers and students have long held dear. As I say to them: 'it's not win or lose, it's learn or not learn.' Read this entertaining, fascinating book to truly 'win.'"
Guru Sean Stark, author and founder of Pencak Silat Pertempuran --
"It's great to see a book that addresses so many martial arts myths. Hopefully, those thinking of getting involved in the martial arts will read this book so they will be able to discern what is real from what is not."
Bob Orlando, Kuntao-Silat instructor and author of "Martial Arts America: A Western Approach to Eastern Arts" --
"Thoughtful, well-presented, and a fun read."
Published by New Media Entertainment, Ltd., "50 Martial Arts Myths" is available for $29.95 at Amazon.
NOTE TO MEDIA AND BLOGGERS: If you are interested in a review copy of "50 Martial Arts Myths," please contact Cathy Baradell at 972.235.3439 or cbaradell(at)ideagrove(dot)com.
About New Media Entertainment
New Media Entertainment, Ltd. is a New York City-based publishing and online media company. Its 2009 titles include "99 Ways to Make Money from Your Photos," by the editors of Photopreneur, and "99 Ways to Make Money Using Twitter," by the editors of Geekpreneur.
Contact:
Cathy Baradell
(972) 235-3439
# # #