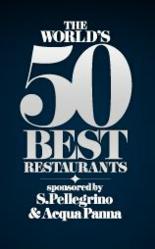 The event will be celebrated with a prestigious ceremony at London's historic Guildhall on Monday 30 April. Live Stream on Finedininglovers.com
London, England (PRWEB) April 22, 2012
S.Pellegrino and Acqua Panna, ambassadors of the Italian style and art of living across the globe and synonymous with the gourmet food and wine culture, are the main sponsors of The World's 50 Best Restaurants 2012. This globally recognized and respected event showcases the leading trends and very best of global dining and is staged and organized by the British publication Restaurant magazine.
The countdown has begun. Soon the announcement of the World's 50 Best Restaurants will be celebrated with a prestigious ceremony at London's historic Guildhall on Monday 30 April. It is a milestone year for the event, as it celebrates its 10th anniversary.
All the details about The World's 50 Best Restaurants Live Stream will be available on Finedininglovers.com and on its Facebook official page. Here, foodies can take part in the biggest happening of the year and find out, in real time, which restaurant will top the list. Will Noma, the Danish restaurant that has won the title for two consecutive years under the direction of Renè Rezdepi, be able to hold its title? Or will it be surpassed by some new unexpected temple of taste? Each year, the list is compiled by the World's 50 Best Academy, an influential group of over 800 international leaders in the restaurant industry (food critics, writers, chefs, gastronomes…) representing 27 regions around the world. They cast their votes according to their top restaurant experiences over the last 18 months, listing their choices in order of preference.
Don't miss the revelations of the new inspiring list on Finedininglovers.com, a virtual platform dedicated to the culture of taste and the pleasure of conviviality that brings fine dining experts together with curious foodies in a single space. Finedininglovers.com is continuously updated with special contents, telling a story a day, every day, through interviews, photos, videos and information in the following engaging sections:
Blog: this is a space rich with content, filled with the recommendations of hundreds of internationally-recognized food bloggers.
Recipes: one of the more enticing spots, where you can browse or search the ultimate recipe book. It's a collection of recipes from haute cuisine's greatest names and new and emerging talents.
People: this is the space to be, to follow today's hottest food celebrities and to gather information, curiosities and new inspirations.
Photos and videos: this photo and video gallery is not to be missed! It goes beyond simple posts, offering content and stories that come to life on an easy-to-use channel.
Finedininglovers.com, an engaging place where food enthusiasts contribute their own opinions and share experiences with others of the same passion, is proudly endorsed by S.Pellegrino and Acqua Panna natural mineral waters. The water brands lend their own expertise to the site, by making the digital platform available at a global level and by sharing and enriching site contents.
In sponsoring The World's 50 Best Restaurants and endorsing the Finedininglovers.com platform, these two brands play an impressive role in enhancing and consolidating the fine dining culture at a global level.
S.Pellegrino and Acqua Panna exude the strong, charming values of their Italian origin. In addition to sharing a history of success, and an elegant, balanced taste, the waters now share a single logo, designed to combine the spirit of both products. It is underlined by a wave-shaped curve, with a solid line representing still water and a dotted line representing sparkling water.
For more information please visit:
The official website for the World's 50 Best Restaurants
Finedininglovers website
Finedininglovers Facebook fan page