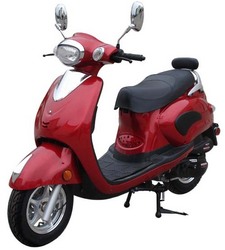 Green Earth Scooters has decided to promote fuel efficient scooters as an alternative mode of transportation for every average American family.
Dallas TX (PRWEB) March 2, 2010
Today, with the increasing fuel scarcity and ever increasing prices all over the world, everyone is forced to think of alternative transportation options. Recession has also made us think of alternative transportation options. Added to that there is an increasing awareness across the globe about going green and conserving natural resources. All these have made many people consider scooters and mopeds as one of their transportation options, because they consume just about one tenth of the fuel that is consumed by most of the SUVs that people own.
Green Earth Scooters is an environmental scooters company that markets the best collection of scooters including 50cc scooters. This company is totally dedicated to saving the environment by promoting fuel efficient scooters. They do not want to be responsible for the environmental damage that will endanger many species in the future.
In today's environmental scenario, buying SUVs that simply drink fuel without any care or concern for the future will indeed be an irresponsible move. To help people save the environment as well as save their hard-earned money, Green Earth Scooters has decided to promote fuel efficient scooters as an alternative mode of transportation for every average American family. They market highly affordable scooters that everyone can afford. Some of the scooters they market can give up to 100 miles per gallon, where as an H1 Hummer can give just about 7 miles per gallon. Green Earth Scooters looks for environmentally friendly customers to promote its scooters. Not everyone is equally concerned about the environment or about conserving fuel.
Green Earth Scooters offers extraordinary customer service, and each customer that comes across this company, without any exception, feels that Green Earth Scooters is one of the most honest companies to deal with online. This company does not make empty promises or create false hope in customers. They just promise results that they can achieve. Each order is carefully handled keeping in mind customer satisfaction. This helps this company to achieve highest level of customer satisfaction. Most of their business comes through references from happy customers. They deliver ordered scooters in record speed time. They make use of only reliable shipping services for fast and safe delivery. They promptly replace parts if there is should be any damages caused during shipping and handling. Customers will never have to make multiple calls or send multiple mails to reach their customer service. This company offers excellent customer service. Moreover, the price of a scooters is very cheap and should be considered a good investment, because this will save customers hundreds of dollars on fuel. For more information visit http://www.greenearthscooters.com.
###