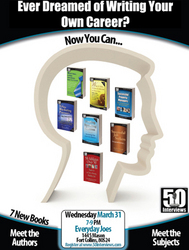 "I was born the same year Napoleon Hill died - 1970 - I think it was destiny," says authorpreneur Brian Schwartz.
Fort Collins (PRWEB) March 17, 2010
Economic turbulence has only steeled Brian Schwartz determination to hire employees and enable new careers in his fast growing publishing company. He created this company as a result of his wife's challenge to go out and interview 50 entrepreneurs before quitting his job with IBM. He did it. Then he wrote and published his first book "50 Entrepreneurs" available at his website. With 20 other authors on board, 50 Interviews is a full-fledged publishing company releasing 4-6 new titles per month.
The following 7 book titles and authors will be represented at the event taking place at Everyday Joe's coffeehouse on 144 S. Mason Street, Fort Collins, CO. on Wednesday evening from 7-10PM:
1. Young Entrepreneurs by Nick Tart & Nick Scheidies
2. 50 Athletes Over 50 by Don McGrath
3. Successful Property Managers by Michael Levy
4. Finding Speaking Success by Brian Schwartz and Laura Lee Carter
5. Video Marketing Pioneers by Randy Berry
6. What it Takes to Earn $1Million in Direct Sales by Kirsten McCay Smith
7. Successful Job Seekers by Gordon Nutall
Author of "Think and Grow Rich", Napoleon Hill has inspired Schwartz. "I was born the same year Napoleon Hill died - 1970 - I think it was destiny," said Schwartz.
In fact, the best job of 2010 may not be a job at all. Aspiring authors like the writer of this release, book enthusiasts and local media will find opportunities for networking and gaining insights into turning their ideas into print - then print into expert-level authority and eventually new careers. Brian Schwartz can show them how when they come to the event.
Brian Schwartz has appeared on NBC and CBS discussing 50 Interviews. His book and the books of his current authors are available on his website: http://www.50Interviews.com or through Amazon.com. Contact him through his website to book him or his authors for your next show/publication or to inquire about speaking engagements.
###