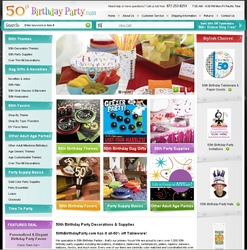 The design of this e-commerce property has been an absolute blast, the products are fun, and the ideas developed by our professional party planners have made this a very enjoyable process
Enumclaw, WA (Vocus) September 15, 2010
50thBirthdayParty.com today announced the launch of an innovative new e-Commerce website that caters the needs of people planning 50th Birthday Parties and other adult birthday milestone celebrations. This new website features the best selection of 50th birthday party decorations available on the internet, including an extensive selection of themed party supplies, personalized birthday party favors, and novelty gag gifts. With over 3,200 50th birthday related supplies in stock, the site seeks to provide consumers with the best possible set of planning ideas, products, and services.
"The design of this e-commerce property has been an absolute blast, the products are fun, and the ideas developed by our professional party planners have made this a very enjoyable process," says General Manager Traver West. "Our team has served over 100,000 party customers over the past 4 years, and this experience is being used to help a whole new category of client who are celebrating one of life's most fun events."
One of the major objectives for this e-Commerce site was to present customers with the widest selection of 50th birthday themes available. "Our research showed that when you help a client select a decorating theme, their task of hosting a perfect 50th birthday party is greatly simplified" shared CEO Edward Hechter. "Based on our experience with our other party related e-commerce sites, we felt it was important to offer the best selection of themes available anywhere."
Where 50thBirthdayParty.com has tried to differentiate itself from traditional party supply vendors is not only in the number of themes available, but also in the depth and quality of accessories coordinated with those themes. "Since these half-century birthday celebrations are generally a huge milestone event, our clients have encouraged us to add high quality, personalized 50th birthday favors that can add an elegant touch to their affairs" explained Customer Service Manager, Kim Sales. "We find that the clients planning birthday events for 50th milestones want to splurge and add some really unique favors so that their guests can take home a fun remembrance of the event."
During the preparations to launch this new e-commerce property, the company has invested significantly in expanding its customer service capabilities to best serve its clients. 50thBirthdayParty has invested a significant amount of time in training its customer service team to deliver world class service. By leveraging the skills of its in-house professional party planners, the firm is ready on day one to assist clients in the planning of these important birthday events. In addition to providing service over the phone, the website is filled with all sorts of tips, tricks, and ideas to assist clients in planning their events.
At the time of launch, 50thBirthdayParty.com has over 3,200 tableware, centerpieces, gag gifts, and decorations products available for purchase, but the company plans to expand to over 5,000 products by the end of the year.
About 50thBirthdayParty.com:
50thBirthdayParty.com is operated by PartyPail, Inc. from its corporate offices and distribution center in Enumclaw, Washington. The company currently operates five e-commerce retail party decoration websites with a focus on adult milestone celebrations such as weddings, baby showers, baptisms, bridal showers, 50th birthday, and 1st birthday parties. Having served over 100,000 customers, the company is committed to operating as a family friendly organization to both customers and staff alike.
All trademarks used are properties of their respective owners.
###