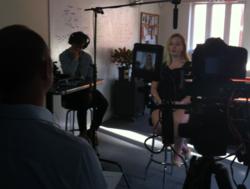 522 Digital wanted to donate some of our time and help give the Carpenter's Shelter some momentum for the food drive. We feel that every family should have the opportunity to celebrate Thanksgiving.
Alexandria, VA (PRWEB) October 29, 2012
Thanksgiving is a time to reflect and give thanks for all of the blessings throughout the year. For many of us, we get an opportunity to spend time with family and friends and enjoy a wonderful meal. But, what if you were forced to choose between eating or paying rent? Well, that is the dilemma that hundreds of families face in the Northern Virginia area.
Every holiday season, Carpenter's Shelter holds a Thanksgiving food drive to collect the main ingredients to prepare a traditional Thanksgiving meal. The organization aims to provide baskets to over 100 families in need during this holiday season.
This week, 522 Digital, LLC collaborated with Carpenter's Shelter and donated services to produce a short video. The video promotes the organization's Thanksgiving Collection food drive and provides a way for supporters to quickly share the message with others in the area.
"During the development of their website, we found that Carpenter's Shelter had a great social media presence. So, we wanted to donate some of our time and help give this organization some momentum," says Tristan Pelligrino, co-owner of 522 Digital, LLC. "We feel that every family should have the opportunity to celebrate Thanksgiving."
"This year, we are looking to make a greater impact. We're also collecting grocery store gift cards during the Thanksgiving drive," says Alex Stevens, Development Associate. "These gift cards allow us to support families beyond the holiday season and throughout the year."
If you'd like to be involved with Carpenter's Shelter this holiday season, visit http://www.carpentersshelter.org