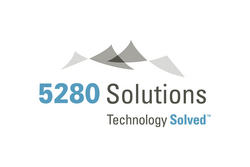 Dynamic RM provides a SharePoint-based records management solution designed to manage electronic and physical records.
Denver, CO (Vocus) December 31, 2009
5280 Solutions LLC, a leading provider of Microsoft-based products and consulting services announced strong growth in 2009 along with a new product launch and an industry award.
5280 Solutions recently announced the release of its newest product, Dynamic RM™. Dynamic RM (http://www.DynamicSharePointRM.com) provides a SharePoint-based records management solution designed to manage electronic and physical records, allowing organizations to meet compliance objectives by applying classic recordkeeping principles within a robust SharePoint framework. Dynamic RM streamlines the lifecycle of record management, including file plan visualization, declaration and preservation, flexible retention rules, and formal hold and consigned disposition processing workflow, as well as addresses the complexities of physical container management. Dynamic RM also offers a unique "site-as-record" approach that acknowledges collaborative records management requirements present in organizations using SharePoint.
5280 Solutions was also recently awarded the "2009 Partner Excellence Award" from DataCap for embedding document capture within 5280 Solutions' Dynamic Payables™ product, a SharePoint-based accounts payable invoice automation and document imaging solution.
In 2009, 5280 Solutions experienced strong growth in the sales of Dynamic Payables™, Dynamic Filer®, and overall SharePoint consulting.
"We selected 5280 for several reasons" said Joe Patterson, CountryMark IT Director at the Indiana-based energy company. "Most importantly, only 5280 Solutions could provide an accounts payable and invoice automation solution built on SharePoint that integrated easily with our ERP system. Their solution met all of our business and technology requirements at a very competitive price and return on investment."
5280 Solutions also expanded its reach selling SharePoint-based products through a rapidly growing partner channel.
"We are dedicated to helping our clients reduce costs, improve efficiencies, and increase profits, and the products from 5280 Solutions are a natural extension of the solutions we offer our clients," said Claude Watson, mcaConnect President. "We are excited about our relationship with 5280 Solutions."
5280 Solutions' reseller partners play a vital role in the success of products. 5280 Solutions is dedicated to building strong, mutually beneficial relationships with partners. For additional information visit: http://www.5280solutions.com/partners/PartnerProgram.aspx
About Dynamic Payables
Dynamic Payables (http://www.dynamicpayables.com) is a full-featured, Web-based accounts payable management solution that provides invoice automation, workflow, task-based governance and audit tracking, and payables dashboards and reporting. Dynamic Payables reduces manual data entry by up to 90%, simplifies approvals, and leverages full ERP integration to automate data validation, payments, and vendor communication—all over a cost-effective SharePoint platform. Dynamic Payables has received numerous other awards including "Business Solutions Innovator Award" and KMWorld's "Trend Setting Product of the Year."
About Dynamic Filer
Dynamic Filer (http://www.dynamicfiler.com) provides a low-cost solution to scan, index, and search for documents in SharePoint or directly from Microsoft Dynamics and other ERP and business applications. With Dynamic Filer companies can document-enable their business applications across the entire organization in just a few days and provide context-relevant documents with just one click. Dynamic Filer can be deployed at a fraction of traditional document management and imaging systems. Dynamic Filer has received Microsoft Certification and KMWorld's "Trend Setting Product of the Year" award.
About 5280 Solutions
5280 Solutions LLC is an award-winning provider of information technology products and services with a core competency in SharePoint-based Enterprise Content Management (ECM) Solutions, Workflow, Document Capture, and Business Intelligence. 5280 Solutions LLC is a Microsoft® Gold Certified Partner and an IBM® Business Partner. For more information, visit http://www.5280solutions.com.
###