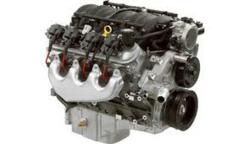 These motors are built by specialists and can be viewed online.
New York, New York (PRWEB) April 25, 2013
General Motors created its larger Vortec engine series to power its pickup trucks and SUVs that were not diesel variants. The creation of this larger engine size has helped to gain confidence in consumers who depend on the power and torque provided for commercial and non-commercial use. The RebuiltEnginesSale.com company is now offering reconditioned versions of the 5.7 Vortec engine online. These motors are built by specialists and can be viewed online at http://www.rebuiltenginessale.com/chevy/rebuilt-chevy-engines.
The Vortec series was successful for General Motors as a Generation III replacement for many of its retired motors. The development in the 1980s helped GM to use this technology for use in later decades. The 5.7 edition was used as one of the largest motors apart from the 6.2 diesel sizes offered as alternatives.
The reconditioned engines that are now part of the GM inventory in 5.7 size are providing more resources to purchase these refurbished motors. A special discounted price is now attached to the motors that are now for sale.
The RebuiltEnginesSale.com company has added multiple engine types to its online inventory this year. Due to the increases in motors available, a new way to process customer quotes was created. The installation of the quote system for rebuilt engines online was made earlier this year.
A new update has taken place for this system that helps to generate shipment and warranty information with each quote distributed. This new way of delivering this essential engine information is designed to help more buyers make purchasing decisions faster.
About RebuiltEnginesSale.com
The RebuiltEnginesSale.com company now stocks hundreds of different motors from domestic and foreign automakers. These OEM builds are used as replacement motors in cars, trucks and SUVs in North America. This company built its reputation in the secondary engines market by selling to trade industry buyers. The recent change to including vehicle owners and other buyers has helped to boost the RebuiltEnginesSale.com revenues this year. This company is one of few that sell reconditioned engines online that now supply multi-year warranty protection when a motor is purchased through the online system or through the toll-free quote system.