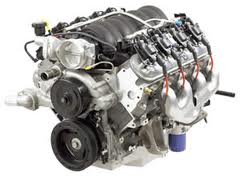 This larger type is providing a new resource for buyers to find Vortec engine series variants without researching the Internet.
Pittsburgh, Pennsylvania (PRWEB) April 06, 2013
General Motors has remained the leading U.S. automaker due in part to engineering for engines that are used in the production of the company vehicles. Finding larger engines for SUVs and heavy-duty pickup trucks can be more difficult for vehicle owners and trade industry companies. The UsedEnginesSale.com company has now added the 5.7 Vortec engine online. This larger type is providing a new resource for buyers to find Vortec engine series variants without researching the Internet. Pricing and current stock levels are available at usedenginessale.com.
The first instance of the Vortec motors were introduced in 1985 and this technology has been expanded since its introduction. The displacement sizes for engines have been upgraded since the first edition of the 4.3L. The newer 5.7 was designed for more horsepower and torque when used in SUVs and pickup trucks.
The new addition of this motor online is now offering the inventory that many buyers cannot find through average offline engine distributors or retailers.
The UsedEnginesSale.com company frequently creates customer incentives during peak times of the year to provide more alternatives to online buyers of engines. A new incentive created and in place this year is a free shipping incentive.
While this program was tested during the first month of this year, this removal of shipment fees for customers in the 48 continental states is now a permanent policy for all buyers. The telephone number quote system or online sytsem can now be used to purchase engines to redeem this new customer incentive.
Aside from the Vortec engine additions, the Ford Motor Company inventory was recently increased to help round out the V8 engine inventory. The Ford Triton, Essex and Raptor motors were added for pickup truck engine buyers online. These Ford inventory improvements are now offering an online resource for more buyers in different parts of North America who are without a local resource to purchase motors. These types of increases are expected to continue throughout this fiscal year.
About UsedEnginesSale.com
The UsedEnginesSale.com company offers its inventory at discounted prices to help make engine installations cheaper. This company has built up its warehouse inventory to help create the resources that many buyers search for on the Internet. Through regular incentives and frequent discount programs, this company has built its buyer network across the United States and Canada. The UsedEnginesSale.com company features an online quotation system that is designed to help expedite pricing and engine ordering for customers who prefer to order on the Internet.