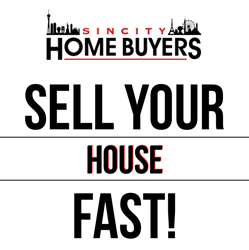 I love real estate because it allows me to help people out of troublesome situations and create unique solutions to solve problems.
LAS VEGAS (PRWEB) November 27, 2018
Sin City Home Buyers is the best up and coming home buying firm in Las Vegas, NV. Easily and quickly growing faster than most of its competitors, they have an edge over realtors and home investors alike.
Here are 5 reasons to not use a realtor if you're trying to sell your house as fast as possible:
1. Listing on the MLS is too long of a waiting game for a buyer to come along.
2. If your house isn't worth very much, buyers agents will pass over your listing and not show it to their buyers.
3. If a buyers agent does show your house to a buyer and it's at a low price, they will non-enthusiastically showcase your house to the buyer.
4. Too much paperwork and days spent signing documents.
5. If you need repairs, you have to fix them yourself if you'd like to sell fast.
Sin City Home Buyers is here to help you avoid all of this hassle you may have with using a real estate agent. We bypass all of this by purchasing your home with cash, fast. Here's some info about the owners of Sin City Home Buyers:
Owned by Gary Crawford and Luis Minero - the duo are a match that compliment each other in ways that make them unstoppable. The team at Sin City Home Buyers are best known to sell houses fast in Las Vegas - usually within 7 days of being contacted by a motivated seller.
Luis Minero, one of the partners and founding members was born in Los Angeles, California. He
attended L.A high school in California when his parents decided to migrate to Las Vegas, Nevada in 2004. He happily supports a wonderful family consisting of his loving wife and blessed with his 3 year old son. In Luis' spare time, he loves spending time with his family and watching football. He has experience working in the convention industry since 2006, until he found his passion for real estate investing. "I consider myself a problem solver in the industry, I help homeowners that are going through difficult times facing foreclosures, distress or unwanted and inherited properties."
Gary Crawford, the 2nd managing member and partner of Sin City Home Buyers was born and raised in Madison, Connecticut. After graduating college at the University of New Haven with a degree in Marketing and Management, he wanted a change of environment. After getting a job opportunity running residential sales for a construction franchise in Summerlin, Nevada, he made the move to Las Vegas. Since Real Estate has always been a passion for Gary, after starting out part-time, he quickly realized the potential it could bring. Two years into the franchise, he decided to embrace real estate investing full-time and has been doing so since March of 2018. "I love real estate because it allows me to help people out of troublesome situations and create unique solutions to solve problems." When Gary isn't doing real estate, he enjoys going to the gym, golfing, and hanging out with friends.
As many local residents know, the city of Las Vegas is filled with scammers and fly-by-night operations looking for a quick buck in exchange for bad service. Most of these types of companies open and close in rapid succession, scamming people day in and day out. Gary and Luis' team at Sin City Home Buyers is just the opposite. After building connections and establishing their brand deeply into the local community, they're not going anywhere anytime soon. They love the city of Las Vegas and they just want to help their local community thrive while relieving the stresses of many families to come.
Sin City Home Buyers, LLC specializes in helping people get out of foreclosure, sell their houses fast, buying distressed properties, and more than includes buying houses in Las Vegas. They have a track record helping people sell their homes quickly in Las Vegas. Any type of home, including water damaged, fire damaged, mold infested, dirty, vandalized properties are all houses they focus on buying. If you have a house in Las Vegas that you're looking to sell quickly without paying realtor fees and waiting the usual timeframe for selling; give Sin City Home Buyers a call at:
(702) 907-1236
https://www.sincityhomebuyer.com/