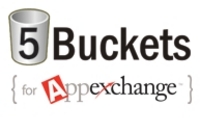 Indianapolis, IN (PRWEB) September 24, 2009
Right On Interactive, maker of the 5Buckets marketing automation software solution, today announced the release of a new demonstration of 5Buckets for Appexchange. 5Buckets for Appexchange seamlessly integrates with Salesforce.com to automate communications with customers and prospects throughout the customer lifecycle - from initial contact to brand loyalty.
5Buckets enhances the power of Salesforce.com by using data in any Salesforce object, including Leads, Contacts, Campaigns, and Cases, to create actionable marketing segments. 5Buckets then schedules or triggers outbound communications to these segments via email, voice messaging, SMS (text), fax, and direct mail.
The 5-minute demo shows Salesforce.com users how to use 5Buckets to configure an automated lead nurturing campaign, including steps to:

Create advanced audience segmentations using Salesforce Reports
Schedule multi-touch marketing communications
Configure multi-channel marketing campaigns
Automate follow up actions using Salesforce Tasks
View the online demonstration at http://www.rightoninteractive.com/5Buckets/5Buckets-Salesforce-AppExchange.php
About Right On Interactive
Right On Interactive is a marketing automation software provider that increases return on marketing investment by helping companies build better relationships throughout the customer lifecycle. 5Buckets is an on-demand subscription service that automates the sophisticated and time consuming tasks associated with customer lifecycle marketing. 5Buckets functions as a "marketing automation hub," connecting disparate databases with multiple marketing communication technologies. 5Buckets enables marketers to easily segment, schedule, and trigger relevant out-bound communications to customers and prospects through email, voice messaging, text, fax, and direct mail. For more information about Right On Interactive, visit http://www.rightoninteractive.com.
###