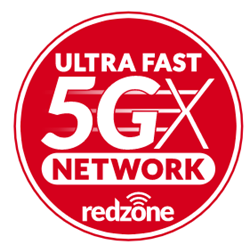 Redzone Wireless Expanding to Provide Affordable Broadband Access to Maine Cord Cutters, with Network Coverage Now Exceeding 270,000 Homes
ROCKLAND, Maine (PRWEB) December 28, 2018
Redzone Wireless, LLC, a Maine-based broadband innovation and services company, announced that it has completed the construction of new wireless broadband networks for the communities of Farmington, Dover-Foxcroft, Machias and Calais which will serve 20,000 additional Maine homes.
With this expansion, Redzone's total Maine coverage now exceeds 270,000 households – representing 45% of all Maine homes. Redzone's 5Gx fixed wireless broadband network operates on multiple wireless spectrum bands including LTE on FCC licensed 2.5 GHz spectrum, and is considered one of the largest FCC licensed fixed wireless broadband deployments in the US.
The current expansion area selection was based on a large number of direct requests from residents and businesses in these markets. The 4-community expansion was privately funded, and represents the completion of Redzone's previously announced 2018 multi million-dollar expansion.
Redzone offers a range of broadband plan and price options – including the most popular among Maine cord cutters which delivers FCC recommended 25 Mbps download speeds and includes a 1 year Netflix subscription for $49 per month.
"Redzone Wireless remains on the forefront of fixed wireless broadband network innovation, and we continuously advance the reliability, capacity and speed of our technology and network," said Jim McKenna, President of Redzone Wireless. "Our 5Gx network delivers real broadband to underserved Maine communities. I congratulate our team for executing our ambitious 2018 plan to provide improved broadband access to tens of thousands of additional Maine families this year." According to McKenna, "Redzone received requests for broadband service from over 35,000 Mainers in 2018 alone."
2019 Plans
Redzone is also announcing that it has secured an additional multi-million capital commitment to expand wireless broadband to more than 25 additional rural Maine communities in 2019, expecting total broadband service availability to exceed 320,000 Maine homes and businesses. A list naming the new towns will be publically announced in January.
"While completion of Redzone's 2018 network expansion represents a significant accomplishment for Maine broadband connectivity, we recognize that too many Mainers are still without adequate broadband access in rural areas," said Michael Forcillo, Redzone Executive Vice President. "While government efforts to subsidize broadband networks with public taxpayer funds appear to support technology solutions which lack economic feasibility, Redzone is actively solving the problem by increasingly delivering economically sustainable broadband access all across Maine."
Redzone Wireless, LLC began offering broadband services in 2015, and now provides affordable access high speed Internet to over 270,000 Maine households across more than 75 communities.
Redzone Wireless, LLC, established in 2014, has developed and deployed a new carrier grade fixed wireless broadband network standard. The company's 5Gx advanced multi-spectrum fixed wireless network platform maximizes coverage and capacity by operating across multiple frequency bands on a proprietary operational support system. Higher frequencies, such as millimeter wave & unlicensed 5 GHz, combine with mid-band licensed 2.5 & 3.65GHz to boost broadband speeds and non-line-of-sight performance. 5Gx fixed wireless provides an economically viable, premium broadband service alternative to wireline, fiber, or cable.